Give Him Both Or Give Him Death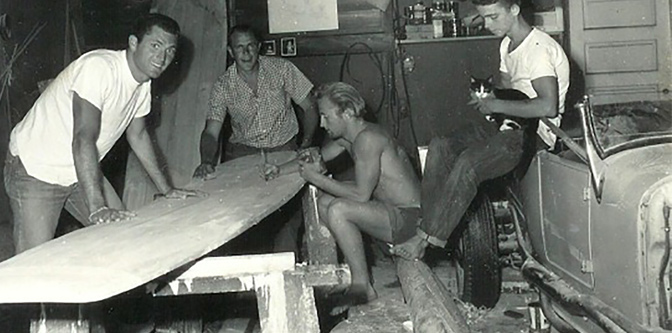 I grabbed my daughter's board and started paddling out in the same way I'd drive up to a McDonald's and ask for a burger, and with no more idea of being turned down. I figured I would just set up camp on the inside and belly ride the whitewater as the giant overheads on the outside washed them to shore. The first five minutes of paddling went swell and I was well on my way to the destination in mind.
The pissed off currents of the Pacific had a different idea, however, and after lots of heckling from the beach side, even more from the break side, and an hour or so of paddling my ass off, I gave up the ghost and road the current back to safety. My body felt broken for a solid week afterwards.
Just as I was able to put my own pants on again without discomfort, Steve called and asked if I was interested in a tour of Lihue's Modern Architecture. I agreed and afterwards we grabbed a plate lunch, sat on a beach, and watched surfers hard charge waves the size of X-Games half-pipes. So, it was only natural that the conversation started there.
"How often do you surf?" I asked.
"Oh man… Probably not as often as I should and certainly not as often as I'd like. I'd guess I average about 5 sessions a week?" Steve answered.
Steve's older than me. Not by much, but still… One hour in the water and I felt dead for a week. This guy is doing multiple hours multiple times a week and still has enough wind in his lungs to carry a conversation with a mute Texan?
Frankly, I was having a real issue relating.
"There has been times in my life where I've surfed at least twice a day every day of the week. I surfed so much I didn't have time to eat and I was burning calories by the thousands and… I looked like a washed-out addict of sorts."
"I don't know. It's something that gets in you and drives. It's all you can think about and you sort of just concede all control."
Suddenly, I understood Steve on a level that only another addict could. Give me the drug or give me death. I don't care about anything else. And while Steve's drug is surfing, mine has always been hot rods.
***
Between bouts of addiction to waves, Steve finds the time to be a hot rodder too. It's hard from the islands, but he manages by collecting parts, dreaming, and studying the history. Every now and then his addiction collides with his admiration and magic forms. The kind of magic not everyone appreciates, but the kind that is my favorite. It's like a niche within a niche… that only a few people on this planet truly belong to.
That's kind of what happened on the beach that day. Over box lunches, Steve talked surfing. I talked hot rods… and this story formed.
***
"You ever heard of Mike Eaton?" Steve asked.
"The spring guy?" I responded.
"The surfboard shaper. There's a pretty famous picture of Mike shaping a long board while his pals watch and his little RPU sits in the background. It's been posted all over the surf world and when I first met him, I had to ask him about it. Oddly, he was way more interested in talking about hot rods with me than wave riding. We actually formed a little friendship from it."
The story goes something like this… Mike Eaton was a young surfer growing up in California under the arms of a legendary surfboard innovator – Tom Blake. However, in the 1950's he was called to prep-school on the east coast and needed a reliable form of transportation to get himself from one coast to another. Being an invincible kid, he chose a t-roadster pickup built by another friend of his – Bob Hogan.
From that moment on, Mike became a hot rodder that just happened to shape some of the best boards in the world. And he did it like a hot rodder too… While most guys were finessing sand paper by hand and shaping with tools of intricacies, Mike was wielding a 9″ grinder and just getting it done. A lot of guys called him a hack for it, but he once told Steve, "It's all about fixing your mind to exactly what board you want. How you get there is your own damned business."
And while you can argue with his methods, you can't argue with his results. Many people in the surf world credit Mike with the long board renaissance of the 1970's. Essential Surfing even asked the question, "If the engineering mind of Mike Eaton doesn't attack the big waves in the 1970s, do we even ride long boards today?"
Still, Mike's legacy with me will always be the fact the he held on to and continued to drive that little RPU all over the country and with his boards hanging dangerously out the back. Coast to coast? No sweat. Up to Nor-Cal to deliver some inventory to Wise Surboards? The RPU was up for that too.
The more stories I've heard from Steve and the more I've researched, the more I've come to understand that Mike Eaton is one of those rare breeds that was cursed with the addiction of two drugs – surfing and hot rodding. Give him both or give him death.
Lucky for us, Mike's been able to keep up with the trips. He retired a few years back and now lives the quiet life in Hawaii. Even luckier? Steve was able to raid his photo archive and provide some photgraphic evidence of this beast in action.
Enjoy:
35

Comments on the H.A.M.B.