Daytona Beach Racing in Color – 1949!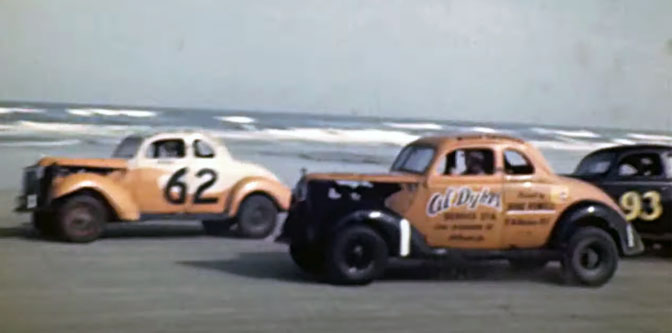 Adding to Ryan's post from yesterday, this has to be the earliest NASCAR sanctioned beach racing footage I've ever seen in color! The National Association for Stock Car Auto Racing formed less than a year earlier in 1948 at the Streamline Hotel in Daytona Beach, Florida, and this film is from the following January. What strikes me most is the sheer number of 1937-38 Ford 5 window coupes in the race, as though any other car just wouldn't be competitive. There's a few reasons for this: Fords were V-8 powered, cheap & plentiful, the transverse spring suspension could take a serious beating. Most importantly, the majority of the cars racing were actually the Moonshiner's personal cars, hopped up for running from the law! One oddity is Tim Flock seen out there in a brand new '49 Ford business coupe running in this scrappy Modified Class, not to mention that looks like he only finished 4th.
By the Summer of that year, NASCAR would offer a 'Strictly Stock' class so new cars from the Detroit manufacturers could compete. A win on Sunday would mean a sale on Monday. An OEM 'arms race' began, and the rest, as they say, is history.
4

Comments on the H.A.M.B.