Peak Obscurity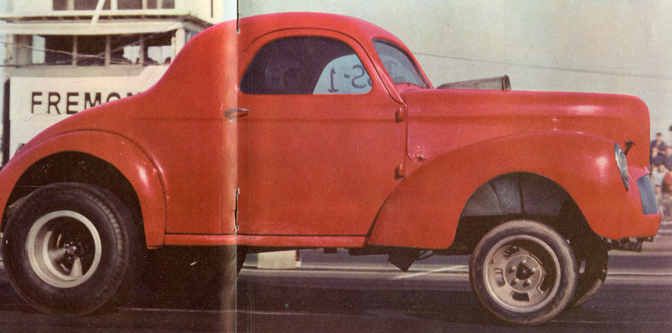 I love historic hot rods. But do you know what I love even more? Hot rods that I've never seen before. You know, the obscure ones—the homebuilt machines that may have never gotten full features or nine-foot-tall trophies or little tags on their dashboards commemorating record setting runs at El Mirage. As you very well know, they weren't all famous. Those are the ones that I hope to find—the ones that the collectors missed and the street rodders did too.
Maybe you heard, maybe you didn't, but I ended up passing on the Model A that I went to see last weekend. I'm drawing a line in the sand that this will not turn into a weekly column with every entry detailing my quest to find a hot rod. That's not fair to any of us. (That being said, that isn't the last you'll hear about my Model A search either.) So, with that out of the way, we're back to our regularly scheduled programing.
This week, we have obscurity three-fold. We have coverage of an up-and-coming event in a lower-circulation magazine that features a smattering of cars predominantly raced by weekend warriors. How cool is that?
Hi-Performance CARS isn't a magazine I often read. That's why, when I spotted it at the antique store where my dad works, I immediately started leafing through it. Muscle car this, tech article that. Good information, but not Jalopy Journal fodder. Then, on page 42, I saw a bright red '41 Willys bursting across the gutter. Yes! Saturated color. Above it, there was a T-bodied street roadster with its 6-71 blower painted red. All red. And the driver, donned in an aluminized fire suit, was just hanging out there in the open. For an extra pop of color, a yellow stocker and an injected slingshot filled out the grid.
"This is what old magazines are all about," I said to myself. I gladly paid the $6 to the curator of booth 108. It wasn't until months later that I revisited the article to get the scoop. So what was it? In 1966, the United Drag Racers Association was working to expand their reach. They set up a big race at Fremont Drag Strip right here in Northern California. According to the article, "The Fremont bash attracted some of the most prominent machinery in dragdom, and the attendance figures complimented the quality of the assembled rods."
There were Fuelers, Gassers, Altereds and more than 200 stockers battling for top honors. Judging by the photos, it looked like a fun weekend at the track. I've always been a fan of the Brasher & Cummings Willys, and it was neat to see Ron Rinauro "Blown Hell" '55 Chevy before the altered wheelbase.
It's a great mix of machines—many of them local—from one of my favorite eras. The weekend is right around the corner, so why not kick things off with some quarter-mile action.
—Joey Ukrop
 Photography by Leland Norene, CARS, May 1966
6

Comments on the H.A.M.B.