Picking Up a Time Capsule
This spring, I've been on the hunt for a hot rod project. Not just any hot rod, but an early Ford. Right now, I'm in the early stages: scouring classifieds, putting out feelers and working out logistics. Thus far, I've met a few nice people and had a handful of good leads. That being said, it's pretty discouraging to see how expensive this hobby of ours has gotten…
This isn't a post about doom and gloom. Not by a longshot. Instead, I would like to direct your attention to the most interesting thing I've found as of late—a 1932 Ford pickup that's basically untouched since 1955. Take a look.
Bright red paint. Double-sided whitewalls. Metalflake upholstery everywhere (yes, the floor too!) Wild pinstriping. 1949 Plymouth bumpers. A custom wooden tailgate. There's nothing subtle about this one, and that's what makes it noteworthy.
The story goes that this particular truck was hot rodded in Wyoming during the early-to-mid-'50s and parked in '82. It was chopped, heavily channeled and outfitted with cycle fenders up front and bobbed fenders in the rear. As the build progressed, the owner had the frame and suspension chrome plated. Interestingly enough, the '49 8BA flathead was primarily detailed with paint. Nonetheless, this truck was—and still is—over the top. It looks like the long-lost brother of the Monogram "Green Hornet" and "Black Widow." Was it ever in a magazine? Or do you recognize it from back in the day?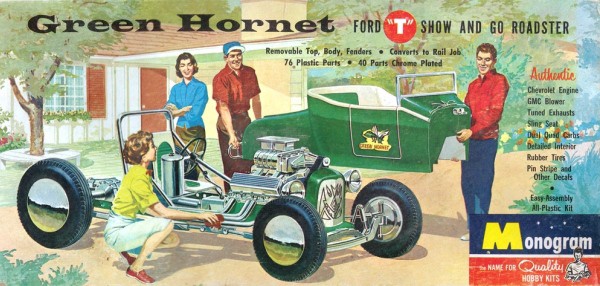 Although I usually scoff at prices, I felt the owner's $27,000 may be within the realm of possibility for some shoppers—but not me. (It's not listed on the H.A.M.B., or else I would put the link here). This truck is a piece of our hobby's history, and I hope someone on here buys it and drives it for decades to come. I wish I could.
—Joey Ukrop
 Photos by Mike Swank, Monogram images from Mac's Motor City Garage
For more Wyoming hot rodding, click here
23

Comments on the H.A.M.B.