R&C, Wineland, & Shoebox Fords
The September, 1960 issue of Rod & Custom Magazine just might house the single best feature ever done on a little page or, for that matter, in R&C Magazine's history. Of course, my opinion is a biased one as I have always loved shoebox Fords and this issue prints no less than 50 of them – mild to wild. Grilles, taillights, side trim, interiors, etc… It's all there.
The editor at the time was none other than the legendary Lynn Wineland. Lynn recently passed away and I thought a highlight of his best issue (my opinion) might be in order.
Enjoy.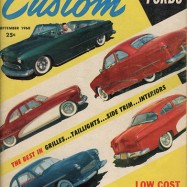 27

Comments on the H.A.M.B.