The Throwback Tub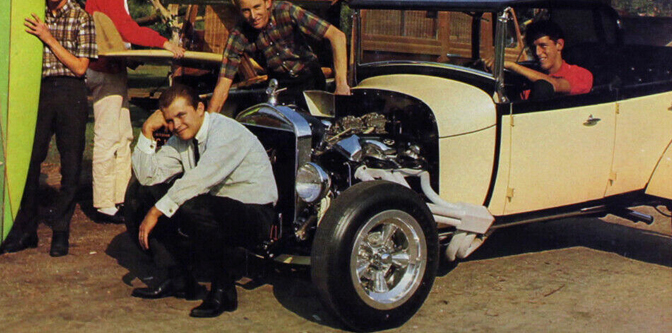 As hot rodders, we remember the smallest things. Whether it's a grainy snapshot in a magazine or a car we saw for a split second 20 years ago, these memories don't escape. Instead, they're stashed away somewhere deep inside our minds. I have a good feeling that if you're reading this, you know exactly what I mean.
Right when I was first getting into these old cars, I remember seeing a record album in a book. The album was the Surfaris' "Hit City 64," but that didn't seem to matter to me much at the time.  (I was 11 years old and had no way of finding this record or listening to any of the tracks like Hiawatha, Sugar Shack, Scatter Shield, or Little Deuce Coupe). Instead, I was captivated by the cover.
Check it out. It's five guys, two cars and two longboards. Big deal, right? Yes, it is. Although the woody in the background is neat, I've always been fascinated by the tub in the foreground. With its '28-'29 touring body, dual-quad 409 and chromed Model T grille shell, it's unique in its own right. The polished American five-spokes and VHT white tube headers (with box collectors) scream mid-'60s, as does the button-tuft upholstery and tasteful panel paint. As a kid, I was intrigued by the roll bar behind the first row of seats. I asked myself, "I wonder what this thing looks like with the top down?"
***
Last month, I was thumbing through old issues of Popular Hot Rodding at the antique mall where my dad works and I fell in love with this car all over again. "Oh! There it is!" I said under my breath as I stood among the refurbished license plates and magazine stacks of Booth 108. "Now I can finally get some answers."
According to the two-page feature in the May 1965 issue, the car was built by Robert Cirritos. It's a '29, and there's a lot more to it than the record album shows. Out back, it has M&H Racemaster slicks mounted on 15×10 Americans. The fenders have been bobbed, and we get a better view at the four bell-tipped scavenger pipes that exit beneath the rear. For improved performance, Robert stuffed the 409 with a Chevy Mark VI cam and had the heads ported and polished. The tub saw dragstrip duty, too. During that period, it was running 12.40s in the A/Street Roadster ranks (with front cycle fenders installed, of course).
Cirritos' tub is one of those cars you just never forget. I'm happy that I was able to fill in a few blanks on its history, even if it took half a lifetime. The question is, does anyone have any more photos of it? Maybe even one with the top down?
—Joey Ukrop
 Photos by George Elliott
14

Comments on the H.A.M.B.