The Official HA/GR Rules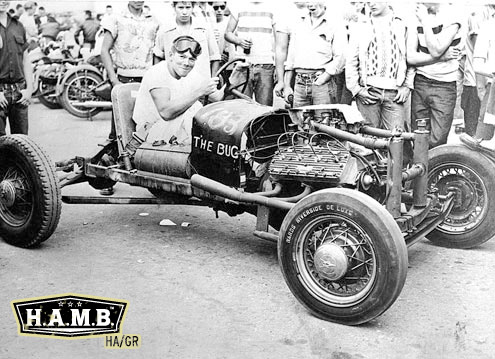 A few months back, I wrote about how hesitant I was to get too involved with the HA/GR class. Well, after speaking with a few folks looking to get involved with the class and a few folks that are already, I've changed my tune. I'm going to take a much more active roll in the next year.
My first action as owner? Approved rules for 2007.
………………………..
1. Stock or modified stock frame rails, rectangular tube or round tube 3" diameter or larger.
2. Stock width front axles and rear ends only.
3. All cars must be equipped with a minimum four point roll bar of 1 3/4″ tubing with a main hoop higher than the driver's head and 2 support bars down to the frame towards the firewall. Tubing must meet NHRA minimum wall thickness for application.
4. Cars with keyed axles must use hub safety retainers.
5. Closed drivelines are encouraged. If open driveline is used driveshaft must have a 1 1/2″ x 1/4″ "driveshaft loop" within 6 1/2″ of front and rear universal joints and be totally covered/sealed off from driver with steel or aluminum floor pan.
6. Cars must have cowl or body and proper floor boards/belly pan to prevent driver's legs from exiting vehicle in event of a crash. firewall mandatory.
7. No "slingshot" chassis. Driver and engine must be positioned between the front and rear axles.
8. Cars must be equipped with an engine mounted starter and be self starting.
9. Batteries must be securely mounted and fully enclosed.
10. All cars must have a master battery cutoff switch accessible from outside the car.
11. All cars must have at least one red rear running light for night racing.
12. Flathead v8 or inlines, pre-1962 inline engines with stock cylinder blocks only. No exotic aftermarket inline six overhead valve heads (Wayne). No OHV V8s or V6s. (If you are looking to run a straight 6 with exotic heads or a flathead with an o/h conversion, contact Ryan for some good news.)
13. Engines must be naturally aspirated. No superchargers, turbos, nitrous oxide or fuel injection.
14. No electronic ignition boxes that mount outside the distributor or "coil in cap" HEIs. Conversions such as "ignitor" or "stinger" that fit within a stock dist cap are allowed. Aftermarket magnetos not allowed.
15. Pump gas/racing gas only. No Methanol, nitromethane, or alcohol.
16. Era specific carbs only, stock appearing- no modern Holley, Edelbrock, or other aftermarket carbs.
17. Fuel lines can have no single rubber piece longer than 24″, must be fastened by hose clamps, not hard or cracked.
18. Cars equipped with a cooling system or water tank must use a radiator cap and overflow/catch can system.
19. Automatic transmissions are not allowed. All cars with clutches must run a stamped steel bell housing or a 1/4″ scatter shield.
20. Cars must have rims no wider than 6″ and only bias ply street treaded tires allowed. No radials, slicks, or cheater slicks allowed. Tire tread width must measure no more than 6″.
21. Drivers must wear full face helmet, single layer (or more) fire retardant jacket or suit, gloves, jeans (or fire retardant pants), and leather shoes.
22. Five point NHRA approved safety harness required.
23. All cars must be of general soundness and safety. Must have all lug nuts, sound steering, cotter pins in place, and heim ends "captured" etc. Must pass all tracks general safety rules.
24. No electronic/pneumatic drivers aids such as rev limiters, two steps, shift lights or electric shifters. Tachometers are allowed if they don't have a rev limiter or a shift light.
25. Cars must be built in the spirit of the "Bug" and other early rail jobs. If ya aren't familiar, ya better ask…
26. All HA/GR cars are required to run a H.A.M.B. Logo in a visible location.
NOTE: For those of you that have wanted me to take a more active roll in this racing class – be careful what you wish for…