Small Scale, Big Horsepower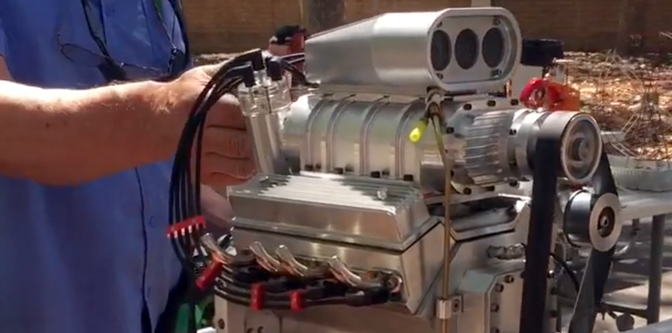 A couple of years ago, I found myself wandering around a car show in Northern California. It was a Sunday in late August and, for the most part, the majority of the participants had packed up and gone home. As cars tricked out of the fairgrounds, I figured there was no better time to stretch the legs, take a stroll and unwind after a long weekend in the booth.
Rather than making my usual trip to the water fountain or mosey-to-the-bathroom lap, I opted for something a little different. My new route brought me through some convention halls and into a shaded courtyard. A sign indicated that I had stumbled upon the Bay Area Engine Modelers.
I looked around. At first glimpse, the powerplants seemed familiar, almost as if they had been plucked from vehicles from the show and scaled down. I saw a man with a gray mustache, blue button-up shirt and a ballcap emblazoned with the letters "CIA." (Was there a government connection? Your guess was as good as mine). He introduced himself as Paul, a member of the club.
"What's the story on that one?" I asked, pointing to a small-scale supercharged V8. With its exhaust port spacing and head design, I initially thought it was a smallblock (pun intended) Chevy. After consulting a few sources, I believe it was actually modeled after a Ford Y-block.
Paul informed me that the little engine measured a whopping 7.8 cubic inches and boasted a compression ratio of 10:1. It ran on 100 octane and yes, it's fully functional. With an electric drill in hand, he fired it up. I watched with a big smile as he rapped the throttle, causing the engine to shimmy across the aluminum picnic table on which it sat.
It doesn't get much better than that.
I later learned that the Bay Area Engine Modelers have been meeting regularly since the early 1990s, and they have an informative newsletter aptly named CrankCall. I plan to take a closer look at the club down the line, but for now let's enjoy the roar of this tiny V8.
—Joey Ukrop
 P.S. For those of you who dig engines of the V-twin variety, here's Paul firing up "The Hoglet!"
16

Comments on the H.A.M.B.