Starstruck by a Stocker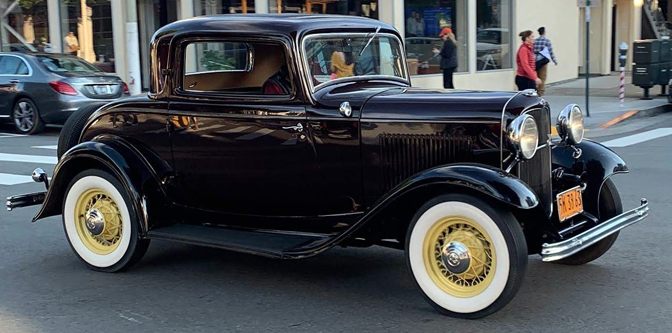 As a hot rodder, I appreciate all types of vintage machines. Generally speaking, if it's old, it's interesting. From craftsmanship and styling to everything in between, there's no doubt that the past beats the present. Practicality? Well that's a topic for another day.
For me, spotting old cars in the wild is always exciting. Just on my street, there are machines dating back to the '30s that are driven semi-regularly and cars of the '50s and '60s that get used every day. It's a good block to be on, but today's subject showed up in a much different part of town.
Last Saturday, I found myself wandering through the Marina District—a place filled with high-end boutiques, artisanal eateries and an abundance of things that are overpriced. It's clean and there are wonderful views of the Bay, but overall, it's not a neighborhood I frequent. That's why what came next was particularly shocking.
Standing at the corner of Pierce and Chestnut, I noticed something different about a car in the distance. Narrow grille. Big headlights. Swooping fenders. Whitewalls. "It's old, that's for sure," I said under my breath. "Wait a second!" It moved closer. "It's a Deuce!"
Yes, it most certainly was. Not just any Deuce but a bone-stock 1932 Ford three-window. With its mile-deep paint and yellow wire wheels, it looked like it was on its way home from the factory. I admired its lines as it crossed the intersection. There were the wonderfully complex front fenders and the raked windshield, the full hood and the ribbed bumpers. Then there were the details, like the chromed V8 hubcaps, cowl lamps and the '32 California license plates. There was no doubt about it, I was in the presence of one hell of an automobile.
While there's no denying that I was drawn to it because of its age, it's worth mentioning that the Deuce does have timeless beauty in stock form. Not a day goes by where I'm not studying pictures of early Fords, but there was something special about seeing one in motion on the modern streets of San Francisco. I'm not going to lie: I was starstruck by a stocker.
—Joey Ukrop
Note: What's the first modification this one needs? My vote is for a dropped axle. 
28

Comments on the H.A.M.B.