A HAMB Hot Rodder's Christmas List (2019 Edition)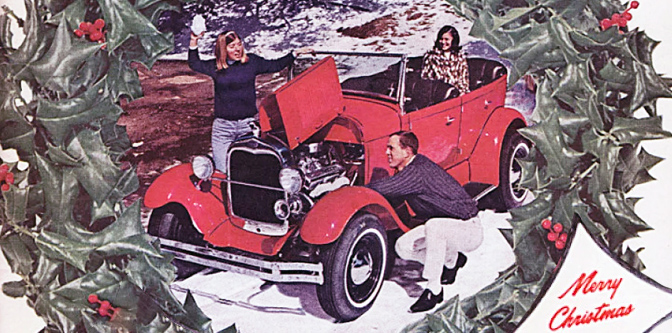 Three years ago, I posted my Hot Rodder's Christmas wish list, and figured it was about time to update that old thing with Santa.
As stated in that story, I'm probably not the easiest guy to buy a car-related gift for because I've got pretty specific tastes in what I want or need. Basically, it's just old stuff or very, very particular new automotive items. Rather than leave a clueless friend or relative to guess what might be the right hot rod gift, why not give them a wish list? Besides the very cool swag and Alliance Partner deals that Ryan offers everyday at TJJ, here's this years 5 hot rod items I wouldn't mind finding under my tree:
A new welder: It's been a long time since I've owned my own MIG welder and it would be good for me to get back into it.
A new book:  I'm digging the look of "S.C.T.A. Bonneville National Speed Trials – 1949-1968 Collector's Set" although it's currently sold out at Rodders Journal.
A new set of rubbers: Floorboard rubbers, that is. My '39 Mercury has the most haggard, petrified pair that you've ever seen. Unfortunately, the Merc version is much harder to find than the Ford counterparts. And not cheap.
A new (old) frame: I've been blabbering on about finally putting my Model A Roadster on real '32 rails. 2020 might be my year to finally do it!
A new flame: My last wish is really on me. To fire up my passion for my project cars again. I need to finally make serious progress on fixing up my cars. The Merc needs paintwork, a new top and interior. The Safari wagon needs rust repair on it's roof and a whole list of small things. And the Roadster is still waiting for #4 on my list…
So what's on your Hot Rod Holiday list?
13

Comments on the H.A.M.B.