Hot Rods & Hockey: A Jalopyrama Retrospective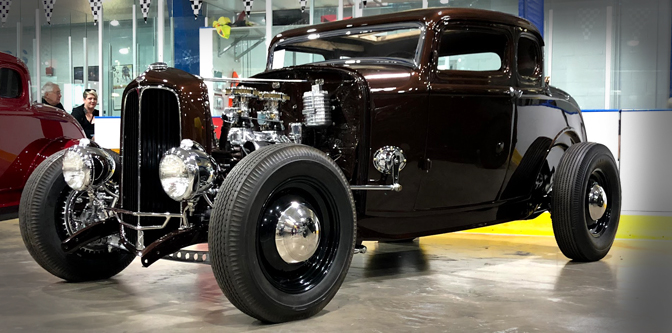 Long before I was a hot rodder, I was a hockey player. That's why when Mike Szuba and the Maryland-based Rusty Nuts Hot Rod Group announced they would be holding the 2019 Jalopyrama in an ice rink, I was particularly excited. Hot rods? Hockey? That's a rarely seen combination these days. There was no doubt about it—I wanted to go.
Hosting a car show on an ice rink is more traditional than you may think. With their white dasher boards, tall ceilings and smooth concrete floors, these arenas make for classic backdrops. After trying out a number of venues, the Rusty Nuts chose the Talbot County Community Center in Easton, Maryland, for the 15th installment of the Jalopyrama.
And so, on a windy day in late April, I joined The Rodder's Journal team on our trip north from Virginia. As soon as we rolled into Easton, we were greeted by a great group of hot rodders and a wide variety of vintage tin. A flamed '40 Ford here, a Model A roadster there, and a straight-axle '54 Chevy somewhere in between. This year's theme was "Gassers, Dragsters & Racers," and there was no shortage of any of them in attendance.
For the next day and a half, I worked to capture the sights, sounds and smells that filled that small-town hockey rink. My coverage landed in issue #82 of TRJ, complete with photography by Steve Coonan and Dan Greenberg. (If you're so inclined, you can check it out in print here).
Last week, I found myself back on the East Coast. I got to thinking about the Jalopyrama and how many photos I took but never did anything with. Maybe it's because the weather is getting colder, or maybe it's because hockey season is in full swing, but I feel like there's no time like the present to take a detailed look back at the 2019 Jalopyrama.
—Joey Ukrop
 Note: The Jalopyrama will return to Talbot County in May 2020. Click here for more information.
23

Comments on the H.A.M.B.