Pit Stops, Speed Shops & Roadside Oddities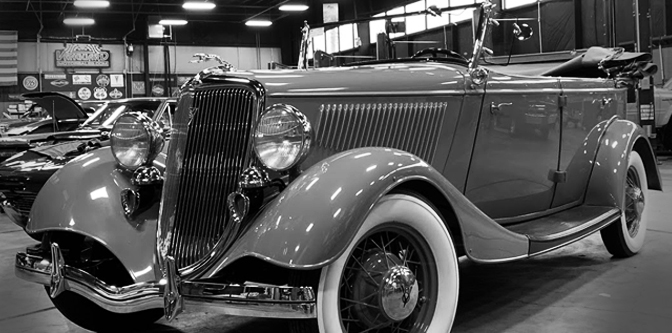 Thanksgiving has come and gone, but I figured there's no time like the present to share some highlights from my trip home to Michigan. I spent the better part of last week in the Midwest relaxing with my family, catching up with friends and remembering how cold it can get. In between eating, playing vintage board games and doing absolutely nothing at all, we were able to check out a few interesting spots in the Great Lakes State.
On Wednesday, we ventured from our house in Novi to Port Huron to pick up a motorcycle for my brother. With my dad driving, my mom in the middle and me riding shotgun, we made the hour-and-a-half trek northeast. Under gray skies, we worked through our checklist. Obtain bike? Check. Eat a good lunch? Check. With that, the rest of the afternoon was ours.
While we were over there, we swung by St. Clair Auto Parts for a quick photo-op. From the original, raised letter "Champion" sign to the fully stocked shelves, the store looked as if it had been transplanted from another era. Next time I'm in the area, I'd like to get the full story.
After that, we shuffled south to New Baltimore to visit a friend that we had first noticed months ago. That friend was Greg E. Normous, a fiberglass Muffler Man now enjoying his retirement at a putt-putt golf course. (Longtime readers may remember my previous encounters with similar statues in Northern and Southern California). We stopped by, wandered around, said our hellos and, as the icy winds from Anchor Bay picked up, we decided it was time to hit the road.
Later in the week, my folks and I swung by two other local hot rod attractions. First, there was Vanguard Motor Sales where we encountered a wide selection of all things automotive. From muscle cars and exotics to hot rods and racecars, there was a little bit of everything. Unsurprisingly, I was drawn to a bone-stock '34 Ford Phaeton sitting in the warehouse. As nice as it was, I would have loved to see it with a dropped axle, some new heads and a multi-carb intake. Maybe that's next on the list?
Our final stop was Detroit Hot Rod Sport & Custom. Although they were technically closed, one of the employees gave us a tour of their facilities and upcoming projects (with any luck, I'll have more on those later). I did, however, snap a picture of three of their latest acquisitions out in the parking lot. The Ford's fate is up in the air, but the two Chevys are awaiting mechanical restorations. Hopefully I'll see them roaming the streets on another trip home to the Motor City.
—Joey Ukrop
3

Comments on the H.A.M.B.