Elmer's "Hot T"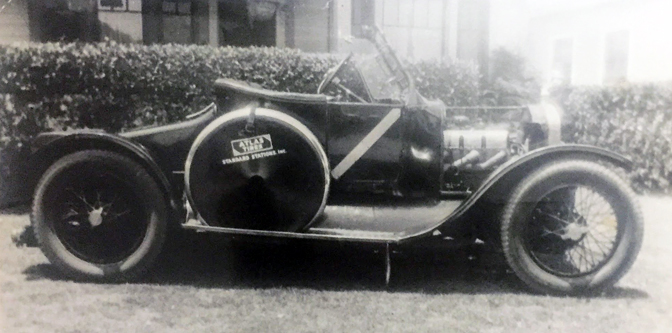 Those of you who are regular readers of this column know that I rarely dive into early hot rod territory. Sure, we've dipped into the '40s a number of times, but lately I've been interested in subjects that go back even earlier. Mid-'40s? Late-'30s? Nope. We're talking early-'30s—the time of gow jobs, soup-ups and other creative creations.
Earlier this week, I was rummaging through a thread on the subject and the wheels started turning. There's so much to like about these machines. They're lightweight, simple and undeniably traditional. Although some feature a variety of rare parts, you could build one with pretty basic components and gradually improve it as time goes on. Generally speaking, complex and or/expensive tools aren't required. Oh and, when they're all said and done, they look like a hell of a lot of fun to drive.
***
Two summers ago, Don Nowell told me about his father's hot rod that he drove in the '30s. The car was a Model T roadster—stripped down and hopped up by one of Indy racer Ernie Tripplet's mechanics. Full-fendered and riding on Buffalo wire wheels, the jet-black Ford ran a four-banger equipped with a Frontenac head, Winfield carb and a drilled crankshaft. Pretty trick stuff.
As I studied the photos, I began to really appreciate the car. The swoop of the fenders. The smooth spare tire cover. The chopped and raked windshield. Then there are the details. The grille medallions. The radiator shell ornament. The exterior fuel pressure pump. It's classy; it's quick.
Then there's the scene as a whole. The hedges. The houses. The cars parked in the street. It's early-'30s Los Angeles and we're getting a rare glimpse into the way it was. Yes, the photos are invaluable, but the notes on the back provide context. They bring the images to life in a way nobody else can.
***
Both Don and his father, Elmer, have since passed away. We ran some of these pictures in our Don Nowell profile back in Rodder's Journal #76. We didn't, however, have space to show what was on the backs. I took these snapshots for reference in 2017, and it's not likely I'll ever see the original photos ever again. There's no time like the present to share them. So, without further ado, let's wind down the week with Elmer's "Hot T."
—Joey Ukrop
 Photos from the Nowell family collection.
15

Comments on the H.A.M.B.