The First Build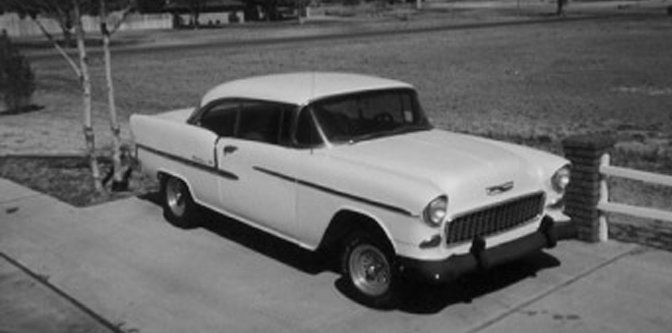 I know some pretty talented guys, some of them would even be considered world class, and all of them had first builds. One of those builds was so bad, that I wouldn't even consider mentioning it here without absolute permission. And I didn't even try to get that permission as I knew there was no way in hell I'd get it. This guy is now someone that I consider one of the best traditional hot rod and custom builders on the planet… without hesitation.
So if this guy started low, you can imagine how low someone like myself started. My fist "build" was a 1955 Chevrolet that my dad bought me when I was 15 years old. It was a running and driving race car that came out of Mexico a decade earlier. It featured a straight axle, no front bumper, and anything and everything that could be gold anodized was GOLD ANODIZED. Oh. Also. The back glass was etched with the word "JESUS" so deeply that it distorted the view from the gold plated rear view mirror.
As I look at this description now, I think, "Holy shit… That sounds pretty dope actually." But at the time, I had no idea what was what and quickly got to work getting rid of the cool. The Halibrand knockoff wheels were given away and replaced with Centerlines. All of the gold anodized stuff was ditched. A Reverend Horton Heat sticker was placed over the "Jesus" etching. A fiberglass bumper plugged the hole up front. And just about anything that didn't speak to the latest pro-street/street rod on the cover of Hot Rod Magazine that month was either lost or replaced.
I remember wanting so badly to redo the straight axle up front with something that allowed me to get the car low that I even bought some weird torsion bar front-end off a Chrysler thinking naively that I could figure out the fabrication. Thankfully, I never had the time. A year into owning the car, I was at work at Skate Stiks (Skateshop) when the phone rang. My boss answered and I could hear my dad through the receiver.
"Hey Doc," my boss answered.
"Do not hand the phone to Ryan. I just blew up his car. Do me a favor and tell him for me so he will have time to cool off before he gets home."
To this day it still pisses me off… My old man figured the '55 needed a nitrous kit. He installed it and then took it out to the Mabee's test track to have a run with it. On his first pass, the tired old SBC gave up the ghost and threw a rod into and out of the oil pan. He towed it back to our house and parked it in my spot where I came home to find it sitting in a pool of its own blood. I don't think I talked to him for a solid week.
***
I wrote the above years ago and never ran it. I sent it to my dad along with a picture of me holding up my middle finger in a Johnny Cash homage. I found it this morning while researching for another story and thought it would be fun to run.
Given all that, what was your first on-topic build… and be honest, how bad was it?
48

Comments on the H.A.M.B.