The Thing About the Bayou Round Up…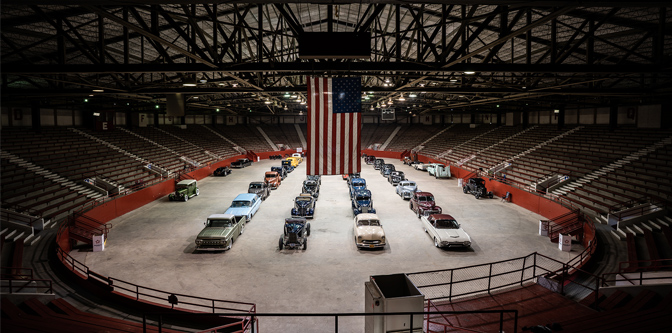 Keith rolled out to my place early on Friday morning and we headed east just as quickly as we could. Most of the crew got to Lafayette the day before, so we knew that we had some catching up to do. East bound with the gas down… The only real interruption we had during the trip was a run in with a deer apparently holding on to suicidal tendencies. Amazingly, the damage to the old shoebox was minimal and no time was lost getting back on the road.
We arrived in downtown Lafayette just in time for the show in Parc San Souci and some Old Fashions at Don's on the square. By midnight, Keith and I were well caught up and melting nicely into the locals.
The next morning came early. We loaded the shoebox into the Blackham Coliseum, cleaned it up as best we could, and then took a seat in the grand stands for some good old fashioned people watching. I think I moved less than a handful of times all day long and when I did, it was only because I needed to grab a bite to eat or had a hankering for some of the live music that was playing just outside the joint. I don't know that I've ever had such a relaxing time at a car show.
And that's the thing about the Bayou Round Up. It's a pretty well kept secret, so the crowds are small… but because of the people that organize it, it still manages to pull some of the best cars in the South into attendance. Adding velocity to this perfect storm of sorts is the fact that Lafayette is a picturesque Louisiana college town with plenty to do and some of the best food this side of anywhere. You can sit on your ass all weekend if that's your thing… OR, if it's not, you can fill your day with the kind of eating, drinking, and adventuring that you really can't do anyplace else. And all of this is achievable without bumping your ass into other people's elbows all day long. It's really quite remarkable.
But truly and honestly, the star of the weekend for me is the Blackham Coliseum. It was built in the late 1940's for the University of Louisiana at Lafayette Basketball team and has since served as a venue for not only big games of decades past, but James Brown, The Supremes, and a ton of other huge historical acts. The old girl is just simply something to marvel at and when you add hot rods and customs to that backdrop, something sort of magical happens.
Anyway, I don't wanna bark too loudly because who wants to ruin a good secret? Just take it from me – give the Bayou Round Up a shot next year. You'll be glad ya did…
Special thanks to Steve, Will, and Brian for being the hosts they ALWAYS are. Those guys are legends.
Editor's Note: One of the great things about the Bayou Round Up is how photographer friendly it is. Like I said, you just can't beat the backdrop. However, for an amateur like me it's a really challenging shoot. The lighting in the Blackham consists of a shit of those old "high bay" light fixtures and they all seem to give out a different color temperature – making white balance super hard to get down consistently. I gave it hell, but Blake was on scene and I'd be willing to bet his shots come out a lot better than mine.
36

Comments on the H.A.M.B.