Car Speed & Style: January, 1959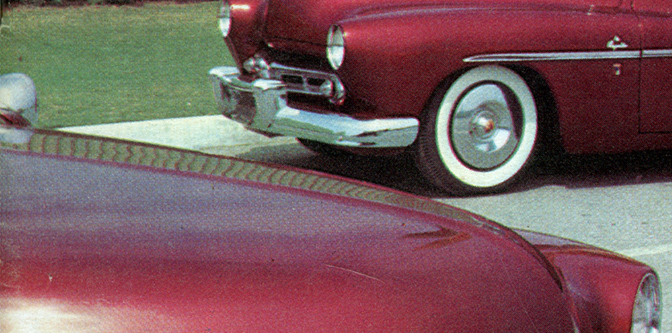 A few years back, I went to swap meet in Fredericksburg, Texas. It was your typical old car swap and I did the typical zombie walk through the isles. At some point, I stopped by a vendor that was selling old mags. I have just about every publication printed from 1948 until 1965 and had no real want or need, but I did need a break from walking and just sort of mindlessly flipped through the guys inventory.
After a few minutes, I flipped to a January, 1959 issue of Car Speed & Style. I already had a copy of this magazine, but this one was different. It looked as though it had NEVER been opened. The pages were straight and crisp, the staples weren't rusted, and there were no markings anywhere. The guy wanted $10. I offered $5 and walked away with a new magazine.
I had kind of forgotten about the buy until this morning when I saw the magazine sitting in my display cabinet. Curious, I cracked the cover and took a look… I'd bet a crisp $100 bill that I was the first to do so.
Anyhow, given the occasion I figured I'd scan and post the two most interesting things in the book. First is the cover story that compares two examples of four-door mercs – one a semi-custom and the other a chopped full-custom. Both are great cars, but for some reason I am really drawn towards the DeSoto rear glass in the full-custom '49. On paper, I hate the idea. In practice, I really like it.
Second, the back cover features an ad for Oberhausen Superchargers. Oberhausens have always fascinated me. Essentially, it was a marketing effort more than anything. The company claimed gains of up to 107 horse-power from a bypass-enabled and electrically driven supercharger. In other words, it was a blower ran off of a starter motor that you could switch on and off at will.
To make 107 horsepower, imagine the amount of amperage it would require to run a starter motor fast enough to turn the blower. Now imagine the weight of all those batteries given your dealing with 1959 battery technology. More so, imagine you are a speed starved 16 year old with little money to curb the itch an no knowledge to speak of. Desperate, you fork over your lawn cutting money and get whatever it is Oberhausen is hocking in the mail.
Man… Those Oberhausen folks can go straight to hell.
I'd love to find the time to research the company and expose the gentlemen behind the con. It makes me smile just thinking about it.
12

Comments on the H.A.M.B.