A Win for the Little Guys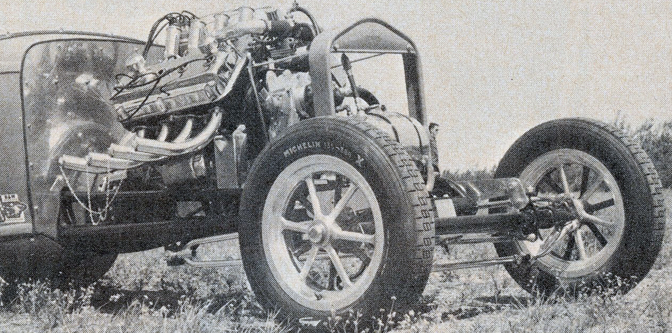 When it comes to hot rodding, I always root for the little guy. You know how it is, minimal budget, big dreams and more guts than anyone else in the room. They're scrappy, clever and capable of thinking outside the box in a big way. Nothing was handed to them. Instead, they're fueled by the will to get out there, turn wrenches and go fast.
Today's feature car is yet another obscure one—a little roadster built by the little guys from a Massachusetts town called Woburn. It's located just outside of Boston and it's been around since the 1600s. Their machine is old, but not that old. So what is it? Why it's a 1939 Bantam roadster, of course!
The brainchild of John MeGerigle, Ed Pearsons and Dick DeLong of the Orientals Rod Club, the steel-bodied Altered was built around a Chassis Research R-16 frame. In the engine department, they opted for a '53 DeSoto Hemi and prepped it for quarter-mile competition. Highlights included Jahns pistons, a Howard cam, Schiefer mag and a set of Hilborn injectors. Chromed valve covers and swooping straight pipes complete the picture. Power was transferred through a B&M Hydro to a stock-width Ford rear.
In typical mid-'60s fashion, the car sat with its nose in the air (just slightly), thanks to a CAE tube axle. The rolling stock is some of the era's finest: polished American mags wrapped in M&H piecrust slicks in the rear and Michelins up front. The interior is spartan with a trio of gauges, Moon throttle pedal and a three-spoke wheel. Check out the notched stops for the shifter. Wild!
Sometimes I see a hot rod and say "Wow, that looks like a full-size model kit." This roadster is definitely one of those machines. So many of the parts and pieces were immortalized in injection-molded styrene decades ago, just for the little little guys and gals to glue together their own versions in 1/25th scale. I know I did.
Judging by the lack of lettering, I'd wager this Bantam was freshly built when it appeared in the August 1965 issue of Popular Hot Rodding. No E.T.'s were listed, but I'm thinking the trio may have needed to upgrade the car's rearend to push the little A/Altered to its full potential. Fast or slow, it doesn't make much of a difference half a century later, because I'm chalking this Bantam up as a win for the little guys.
—Joey Ukrop
 Photos by Ed Sarkisian, PHR, August 1965
6

Comments on the H.A.M.B.