The Mighty Thunderbird of Goodwood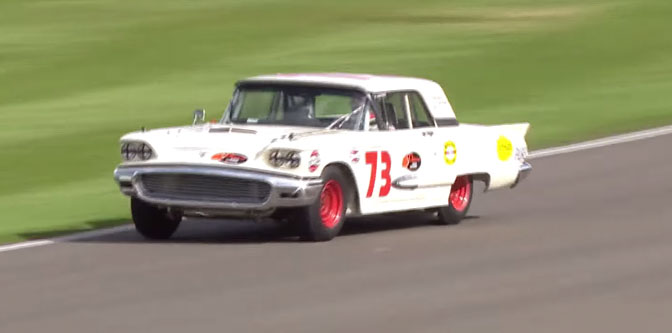 Ok, one last post about the Goodwood Revival and then I'll shut up for another year about it. Actually this one happened at the 2017 event, but it's still one of my all time favorite racing moments, so here goes. There are a number of vintage races throughout the Revival weekend which pair racing vehicles by their specific class, but there is one in particular that is extra fun to watch: The St. Mary's Trophy. This class is interesting for a couple of unique reasons, the first being the novel concept that these production-based, 4 seater touring cars compete over two days, with professional racing drivers behind the wheel the first day, and the car's actual owner driving the second day, which ends in cumulative result of their performances on track. The other reason that St. Mary's is the race to love, is that it pairs the tiniest-yet-best-handling British saloon cars against the biggest American road cars in all of Great Britain. Just watch the clip below to see why it's so amazing. This is a Master Class is counter-steering as nine-time Le Mans winner Tom Kristensen (TK or the Great Dane as he's affectionally known) hunts down little Austins and Jaguars at the wheel of a 1959 Thunderbird. A car this big and heavy really shouldn't get around the circuit this quickly, but Tom makes it look easy. Enjoy!
12

Comments on the H.A.M.B.