Take Two Grand and a Time Machine…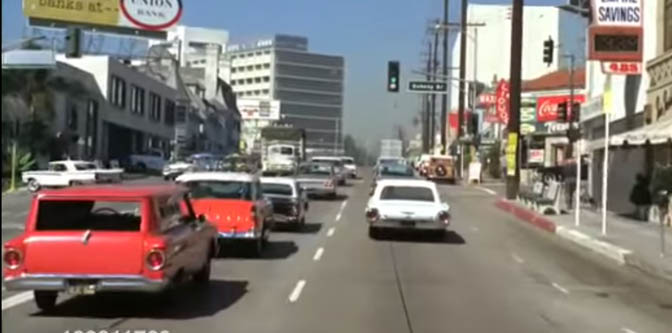 Who of us doesn't think about going back in time at some point? Times were simpler, stuff was cheaper, and people were somehow less annoying. Now here's your assignment: I'm gonna give $2,000 in cash and send you back to Los Angeles in the Spring of 1967. Watch the film below and pick out the used car (or cars) you would buy with that cash. Why is early '67 the perfect time period to go back in time to? Well for starters, used cars of the 1940s and '50s were extremely cheap and plentiful at that point. Heck, a brand new 1967 Plymouth Barracuda was under $2500, and pretty much any used late 50s premium American car could be had off a used car lot for less than a grand. Watching the clip I spied everything from a Gypsy Red '55 Nomad to a 40's Woodie wagon. Anybody recognize that pale yellow coupe on the right at .39 seconds?
Oh, one word of caution while your car spotting on Sunset Boulevard- Pay attention or you might run a red light!
(and unless you dig cheesy elevator music, you might want to mute the video)
40

Comments on the H.A.M.B.