The Heart & Soul of the H.A.M.B. Drags
As I walked down the jet bridge on a cool San Francisco night, the man in front of me stopped and sneezed. "Bless you," I said. He turned around and looked me square in the eye. The lines of his face were carved with years of expression and his bottom teeth jutted out at all different angles. He wore a plasticky leather vest with a sticker about ending wars stuck to the back.
"You know why people say that, right?" he asked.
"I'm not sure," I replied.
"It's because when you sneeze, your soul escapes. By saying 'Bless you,' it allows it to come back in."
***
That conversation from the first leg of my trip nestled its way into the depths of my mind as I flew from California to St. Louis under the cover of darkness. When I awoke, I would be in Missouri for another installment of the H.A.M.B. Drags. As some of you may know, I write and edit for The Rodder's Journal as my day job. As luck would have it, we just finished TRJ #82 earlier this month, giving me the perfect opportunity to head to the Midwest to cover the best damn drag race in the country.
Rather than simply arriving in Joplin, shooting the races and being done with it, I worked with my editors to put together a slightly different—and far more involved—plan. I'd fly to St. Louis, road trip across the state in my friend Michael Starr's '39 Ford Tudor, hit the Ozark swap meet, then the drags, and then come back and catch up with veteran Missouri hot rodder Bob Rothenberg (whose '32 Ford three-window Gasser appeared in TRJ #16). Sounds pretty good, doesn't it?
Collaborations like this are one of the many reasons why I love my job(s). The bulk of the road trip story—as well as extended racing coverage—will make their way into the next issue of The Rodder's Journal. But for today's post, I want to touch upon a few moments from the drags that may not fit elsewhere.
Rain on the Way
Cool rainwater streamed into the interior of Michael's '39 as we drove towards the drags. It was Saturday morning, and we had five of us sitting cozy in the two-tone Tudor. I found myself in the back seat, passenger side, and realized things were actually pretty spacious. Unfortunately, seeing that there weren't any inner door panels, I also realized the rain splashing off the running boards could make things pretty wet. Nonetheless, we laughed and joked as we made our way to Mo-Kan Dragway.
It wasn't long before we arrived at the pit-side gate and motored on in. We scored a trackside spot and, once parked, we moseyed over to Beer Billman's compound to wait out the rain. Their small village of E-Z Up tents kept us dry, and their endless stream of anecdotes and commentary kept a smile on my face.
When the rain let up, the track prep began. The Mo-Kan team had all hands on deck, draining water and getting the racing surface ready for action. Seeing that I didn't even bring a jacket to Missouri (let alone a rain coat) I used this opportunity to check out my surroundings. Everywhere I looked there were competition machines. A chopped, straight axle Model A with a blown Ford here and a front-engined dragster there. Gassers, Altereds, Super Stockers and even a Match Bash Funny Car. And yes! It wasn't just drag cars—there were plenty of hot rods and push trucks to round out the scene. I peered up. Blue skies were coming.
A couple hours later, the track was ready for 1/8th-mile racing. I made my way to the starting line, then to my usual home along the steel guardrail. Cars ripped by and I felt my mood improving even further. "This is it," I said. "The drags are happening!" I'm not sure how long the racing lasted, but just about every participant got to make at least one pass.
Then things changed. The sky opened up and—you guessed it—the rain was back. My heart sank. With no other option, I wandered over to the snack bar, grabbed a reasonably priced burger and took a moment to reassess.
Hunting for Hardware
For me, one of the most enjoyable parts of the H.A.M.B. Drags is picking the winner of the Rodder's Journal Award. I've never been a big trophy guy, and the drags are a world away from being a trophy contest. That being said, I like to give the award to the car I feel best represents the spirit of the event.
Although that sounds good in theory, I was in a tight spot on the night before the race. Usually, I piece something together using low-buck this-n-that from at the Ozark swap in Springfield, but due to the rain I wasn't able to find anything that didn't have a 1974 Impala lowrider on it or cost $50. Even though I scored a commemorative Stewart-Warner speedometer in the hotel parking lot the night before (Thanks, Ben!), I felt like we needed a trophy that was a little more custom.
As luck would have it, my pal Nick (Nick32Vic) thought so too. On Saturday, he took action. Unbeknownst to me, he found a 1950s boat racing trophy—engraved "2-CYL CLASS, 2nd PLACE, STEVE MEESE"—and a pair of toppers in the swap meet area at the drags. He handed me the pieces and suggested I put them together. Armed with tools normally used to keep a fire-breathing slingshot dragster bolted together, I built the trophy right there in the pits. For the pièce de résistance, I slid out the old plaque (sorry Steve the Boater) and popped my custom-stamped one into position.
"Want to give this thing away?" I asked Michael as the track was drying. "Of course," he said. I snagged a beer from our cooler and walked through the pits towards a turquoise Model A pickup—a truck that I knew was my pick ever since I saw it pulling into the host hotel parking lot the night before.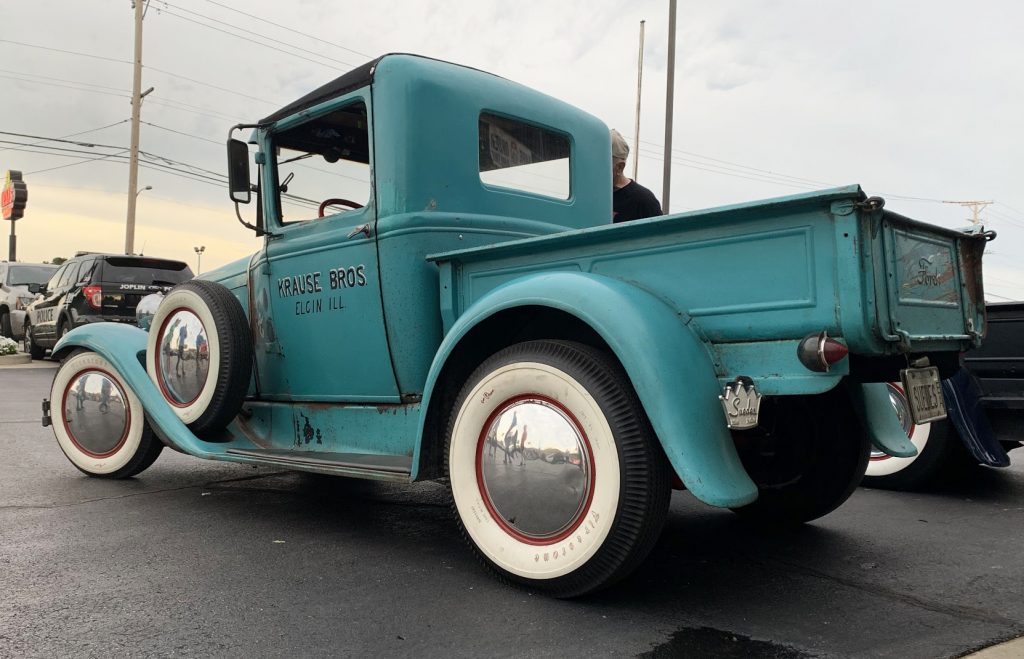 I soon learned the A belonged to Ryan Scherman (guyontheHAMB). Originally hot rodded in the '50s by Krause brothers of Elgin, Illinois, Ryan has worked to maintain the truck's look and feel while adding a few period touches of his own. From the well-worn paint and candy-striped cable wrap to the Monogram-style chrome wheelcovers, the "MisFit" pickup is right on every level. Best of all, he drove it from his home in Chicago to the track—its longest trip in more than 50 years.
To keep things interesting, the A's generator went out somewhere along the way. Undeterred, he picked up an untested one at the Springfield swap for $25. It worked, and he kept the masking tape price tag on it as a badge of honor. After talking for a little while, Ryan handed out a round of celebratory Hamm's (fitting!) and we raised them in honor of the drags.
***
Just like the blessed man on the jet bridge in San Francisco, hearing the story of Ryan and his truck brought soul back into me. Even though the stormy weather put a damper on the racing last weekend, it didn't matter at the end of the day. The H.A.M.B. Drags are one big family reunion and, I'll tell you what, there's plenty of soul to go around. I'll see you next year!
—Joey Ukrop
 Get the full Show Me State Saga in TRJ #83, coming to newsstands and mailboxes worldwide this fall.
14

Comments on the H.A.M.B.