What Happened to Henry's Flying Flivver?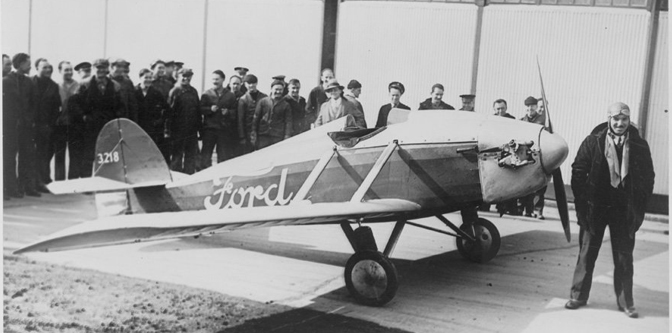 Henry Ford was one ambitious man, and for the majority of his career, his crazy ideas aimed at helping the 'common man' had paid off: The Model T and the Fordson Tractor were prime examples of a simple, cost-effective machine made available to the masses. Ford thought he could turn his attention to civilian aircraft and have the same idea of an affordable vehicle that anyone could fly. It started in the mid 20s when he bought the Stout Metal Airplane Company and achieved a little success with Ford Tri-Motor transport plane, which Admiral Richard Byrd famously flew over the South Pole by the end of that decade. That's why it all made sense when Henry proposed making a "Model T of the air" and put his Tri-Motor designer Otto Koppen on the job with a mandate to create a personal aircraft that was light and small enough to fit an office… Ford's personal office, to be exact! The Ford Flivver was the end result- A single seat plane that was only 15 feet long with wingspan of 23 feet, weighing a mere 350 pounds and powered by a twin cylinder motor cranking out a paltry 35 horsepower.
Ford was quite pleased with the resulting 1st prototype, which he revealed to the world on his 63rd birthday, and assigned Stout Aircraft Test Pilot Harry J. Brooks to work out the bugs in development. At first blush, it seems as thought Henry Ford had another success on his hands; A simple aircraft that was easy to maneuver and could be stored in the space of a large automobile. Pilot Brooks loved the little plane so much he often used it for his daily commute! The third prototype of the Ford Flivver was built with longer wings in hopes of setting a long distance record for a Class C (under 1000 lb.) airplane, by flying all the way from Detroit to Miami on a single tank of fuel. The first attempt in January of 1928 had a forced landing in Asheville, NC due to icy wings and bad weather, but the second attempt the next month (which Edsel Ford witnessed) saw Brooks make it Titusville, Florida landing a new record of 930 miles for a small plane. He fixed a leaky fuel line and a busted propeller before setting on what should have been a short hop to Miami… But he never made it. The next day seaplanes spotted the wreckage 50 miles to the south off the Florida coast near Melbourne, but Harry Brooks' body was never recovered.
What caused the Flivver to crash? Well, there are two stories floating out there- One is that toothpicks Harry shoved in the gas cap vent holes to prevent condensation caused fuel starvation. I don't fully buy this theory, mainly because he was smarter than that, and even if the motor did cut out, a test pilot of his caliber would have likely been able to coast the plane to a safe landing. The more probable story I've read is that a rudder wire snapped and he lost all directional control. Regardless, Henry Ford took the news of his young test pilot's death hard, and between the looming Great Depression and gloom of his own, Ford decided to leave the personal aircraft business behind. This ended his dream of building the Model T of the air… Otherwise we all might be hot rodding Flivvers right now.
3

Comments on the H.A.M.B.