Part 3: Hot Rods In Hawaii
When we go to Hawaii, we typically stay on the island of Kauai and we tend to rent a different house on the same street in Waimea. Waimea is not a typical tourist destination. It's a "rustic" area on the dry side of the island… but it's also one of our favorite spots in the world simply because you can go to the beach anytime of the year on any day of the week and have it all to yourself. It's our paradise.
That all being said, we still like to get out and about on occasion and this past Saturday we did just that and headed to Kapa'a – the bustling city center of Kauai… sort of… Anyway, we stopped at a strip mall to hit some of those typical tourist shops and while the girls were spending too much time in a shell shop, Miller and I strolled into an art gallery. Frankly, I didn't expect much – maybe some hand painted mini surf boards featuring sunsets and palm trees or possibly some more Lilo & Stitch posters.
Instead, we were greeted by very finely detailed pencil sketches of traditional Hawaiian canoes in various stages of build. The technical nature of them reminded me of early Detroit based concept art and I was immediately pulled further into the gallery. Before long, the pencil sketches turned into acrylic on canvas and by then, I was convinced – this artist had to have been inspired by the automotive world at one time or another.
And then, in the corner of my eye, I noticed an acrylic piece on the floor casually leaning against the wall. It looked to be the Mooneyes Front Engine Dragster caught mid-launch and busting with color. I fell in love with it instantly. Above it was the "Flyin' Hawaiian" looking as though it was ready to stage and next to that a highboy roadster of some sort…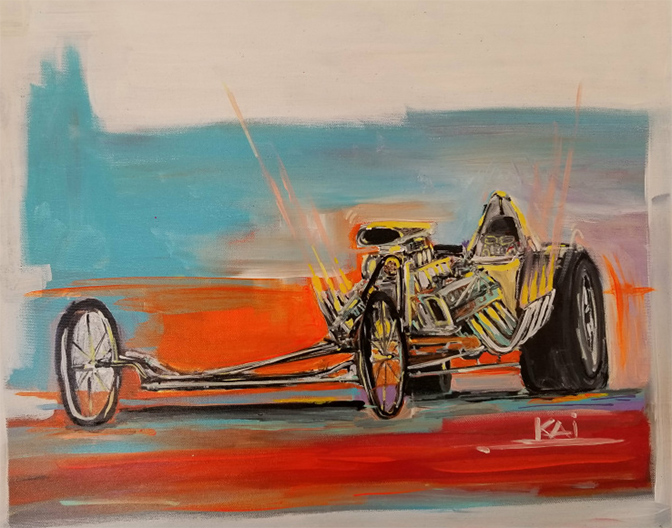 It was the next piece though that truly floored me – a water swept and streamlined vintage Hawaiian canoe powered by a blown injected Small Block Chevrolet. It was a collision of two passions of mine from a perspective that I have never seen before and I haven't been able to stop thinking about it since. This art got to me.
***
I figured what I was dealing with here was a mainland hot rodder that got fed up with life on the big, moved to Hawaii, and traded his car passion for a canoe affection of some sort. That made sense to me… But I wrong.
The artist is Keala Kai. I didn't meet him, but I did get a chance to meet his wife. She beamed with pride as she told me about Keala's accomplishments both as a crew member of the Polynesian Voyaging Canoe "Hokule'a" and as a builder of Kauai's Voyaging Canoe "Namahoe." I never really got the story of where the automotive link came from, but after I talked to Keala's wife I was certain of two things. First, he is very much a proud Hawaiian. And second, the man knows more about voyaging oceans than any of us prolly know about haunting quarter miles. He's a legend.
So I guess this one will remain a mystery of sorts, but I kind of like knowing that somewhere out there in the world is a traditional Hawaiian sailor that somehow found a sidebar passion for traditional race cars. And every now and then, to my joy, he's able to merge the two.
Enjoy a selection of his work:
To see more or to even support Keala's efforts, go here.
5

Comments on the H.A.M.B.