Photoshoot Road Trip: The Nick Hoesing Roadster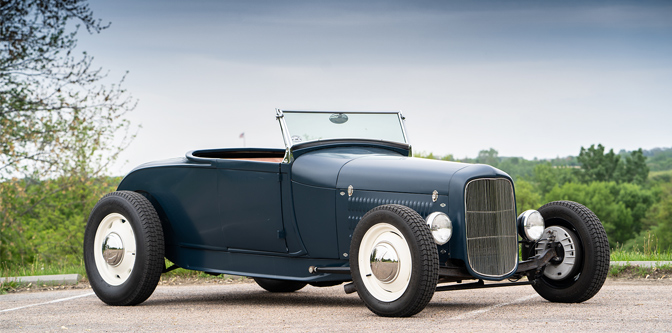 The Photoshoot Road Trip: Part 4
This is a continuation of part 3 that was posted last week.
***
I had this weird feeling driving north that Karma was looming and that my time was coming. I had contacted Nick a while back hoping to shoot his roadster, but shortly afterwards a brisk moment of humiliation came back to haunt me.
About ten years ago I was at the GNRS with Keith Tardel. I have unanswered questions about the true length of the statute of limitations so I'll refrain from the details for now, but this day was actually the lead up to one of the craziest nights and following mornings of my life. And like often happens, this hooliganism was augmented by spending too much time at the host hotel bar.
Keith and I started early that Friday and by two or three in the afternoon we were three sheets to the wind. Neither of us particularly wanted to leave the bar, but the show called and we hadn't walked it yet. So we did…
As soon as we stumbled into the main hall, I saw Nick and a few of his pals aggregated near one of the contenders. About all I really remember is walking straight into Nick. My chest hit his arm that was connected to his hand that was connected to a $15 GNRS beer. And in slow motion, I saw that beer slosh around the rim of the plastic $10 commemorative cup and then all over Nick.
As a true social moron, I panicked. I think I said "sorry" twice in succession and then ghosted.
I have no idea if Nick remembers this. We've never spoken of it, but I remember it distinctly not only because of the night that followed but also because Keith gave me shit about it the rest of the day.
"Hey man, there's Chip Foose over there. Why don't you go say hi and spill his beer on him?"
***
So yeah… the whole time I'm shooting the Nebraska boy's cars, I've got one eye through the viewfinder and the other over my shoulder – just waiting to see a group of corn-bred fellas with a Gatorade cooler full of beer sneak up from behind. At times, I felt like I was the head coach of some Big 10 football team and I was about to win the Rose Bowl. True paranoia.
It was amplified by the fact that Nick was just being so damned kind. "Maybe this was part of the setup," I thought. I'm not some photographer that can shoot your car and add value to it. I don't run some prestigious publication capable of stroking an ego or even making dad proud due to an appearance within. I'm literally just some schmuck (the H.A.M.B. guy) that begs folks for the inconvenience of a photoshoot. And yet Nick not only agreed to the shoot, but also arranged to have twelve other cars show up and all his pals and… I mean, homeboy went to some trouble.
Towards the end of the group photoshoot, I was kneeling down with my tripod and talking to one of Nick's pals as I fired away. "Man, I can't believe Nick put all of this together. Really, really cool of him."
"That's just Nick," he said.
***
Immediately after shooting all of the individual cars, I moved into taking more detailed shots of Nick's roadster. Like I mentioned in part 3, the weather was horrible and the light was as flat as it could possibly be. So my mind started battling the weather rather than the conspiracy at hand. Before too long, things started to come together.
Like a lot of you, I watched Nick build this roadster on the H.A.M.B.. And before that, I watched Nick travel the country in his Galaxy. I've spent so much time watching Nick pull shit off that I felt like I actually knew the guy. Much like I'm the "H.A.M.B. guy," he was the guy that looked like "Malcolm In The Middle," drove a Galaxy everywhere and then decided to build a roadster in his basement. That's just Nick – right?
Actually, come to find out… no.
I mean, yeah… he did all that shit but he's actually so damned kind that I don't think I can think of him as that guy anymore. Instead he will be, "that really nice guy in Nebraska that I spilled beer all over." And despite the fact that I probably ruined his fucking Friday at the Grand National Roadster Show, he still went way out of his way just so I could have props for my unexceptional photographs.
Admittedly, I just painted a pretty ugly picture of myself. I'll own that. But another oddity of mine is that while I might be prone to taking folks for granted, it seems as though it's impossible for me to do the same to hot rods. I've loved Nick's roadster and the changes he's made to it since the day it rolled out of the basement. And every time I get the opportunity to, I stop to study the details.
Typically, this is the point in the feature where I would transition into a different narrative and start to list the details of the car. And I'd do that now, but at this point I'm afraid I've probably lost the audience with my ramble. Which works out in this case because Nick was nice enough (of course) to provide a really detailed tech sheet after I shot the car. I'll provide that at the end of the photoshoot.
But I want to end with a thank you. I want to thank all of the Nebraska guys for not dousing me in beer and I want to thank Nick for being Nick. He has no idea this is the case, but he inspired this whole road trip thing of mine and as this is my last installment from the trip, I can say that its the first of many. I had an absolute blast.
Nick Hoesing
Omaha, Nebraska
Year, Make, and Model:
1928 Ford Roadster
Engine Make, Model, Modifications, & Details:
– Roller cam 302 small block Ford
– Bored & stroked to 347 c.i.
– Aluminum Edelbrock heads and intake
– 600 cfm Edelbrock carb
– Shorty headers, exhaust dumps under cowl
– Really just a stereo-typical 347 Ford with 400+ hp
Further Drivetrain Details (tranny, rear, etc…):
– T5 5-speed, scatter shield, Ford racing clutch, billet steel flywheel, hydraulic throw-out bearing
– 1957 Ford big bearing 28 spline 9″ rear w/ 4.11 gears on a Ford trac lok limited slip diff
– Converted to 5.5″ bolt circle the hard way
Wheel & Tire Details:
Front: 1940 Ford 16×4 w/ Excelsior 5.00×16 radials. Balancing beads in these work well!
Rear: Aluminum Divco Milk Truck copies. 18×5 w/ Excelsior 7.00×18 radials
*Rear drag race set-up: 15×6 steel for pickup wheels w/ M&H Racemaster 29.5×10-15 slicks
Suspension Details:
– 1932 Ford frame custom built by Gary Maxwell at Blackboard Hot Rods. Pinched up front to match '32 Ford grille width. Pinched at cowl and rear. Frame horns bobbed front and rear.
– 1932 Ford axle and wishbone, split and mounted through the frame rails. Front spring mounted through wishbones where the forged end meets the tube; Rolling Bones / Doane Spencer style. Vega style cross-steering.
– Quarter elliptical springs are the lower link of a triangulated 4-link arrangement. Bilstein shocks front and rear. The car was originally built with bias ply tires and So-Cal tube shocks. Switching to Bilsteins and radial tires made a HUGE difference in how the car rides and drives.
Brake Details:
– New '40 Lincoln style components up front on Pinkee's Rod Shop machined aluminum backing plates.
– 1957 Ford Ranchero backing plates out back w/ 1960s pickup drums. Dual reservoir master cylinder.
Body Modification & Paint Details:
– Original 1928 Ford body
– Rust repaired and the floor and body sub-structure were built from scratch
– Doors are still a bit rough; inner door panels were built from scratch, as they had been completely cut out at some point in time
– Cowl was sectioned at the bottom, approx. 3/4″-1″ to alleviate the gap that is typically present when a Model A body is placed on a '32 frame
– Home-built .0625 aluminum hood top and sides. Sides louvered by Larry
Cain
– Windshield frame and stanchions chopped approx. 4″ and leaned back
– Roadster top in the works
– Enamel paint from Tractor Supply Co. We custom mixed Ford Tractor blue with flat black, aiming for a Ford Washington Blue appearance. Sprayed by Jason Holland.
Interior Details:
– Minivan rear bench seat sectioned to fit the car. Foam modified and custom leather cover sewn by Clint Pedersen. Leather hide from Ebay.
– Old bomber airplane seat belts
– 1932 style dash. Gauge panel designed by myself and machined by TJ Zessin at Atomic Machine.
– Mooneyes gauges
– Battery and fuel tank placed behind seat, at front of trunk.
Misc. Details:
This car is a special one to me. One that will never leave my possession. I started planning to build it around 2008, but had a lot to learn in order to do so. In 2009, Joe Russell led me to the body purchase and I started collecting parts to build the car. It was built in a single car garage at my old house by myself, friends and my dad. In 2012 it finally hit the road in bare metal and I started racking up miles; Salina, KS, Bonneville Speed Week, HAMB Drags — 5000 miles in the first month!
Since then, the car has continuously evolved. It started out with a (Sellers) Hallock-style windshield, no hood, different engine, headlights, shocks, dash and some other odds 'n' ends. Over 50k miles later and dozens of passes down the drag strip, the one big item left to do is get an appropriate roadster top on the car. It's been to the TRJ Revival in Baltimore, MD, a few trips to the LSRU in Austin, TX, Bonneville Speed Week and a bunch of trips closer to Omaha. Best 1/4 mile pass was 11.95 @ 113 mph and Mo-Kan Dragway.
37

Comments on the H.A.M.B.