Happy Birthday Gene Winfield!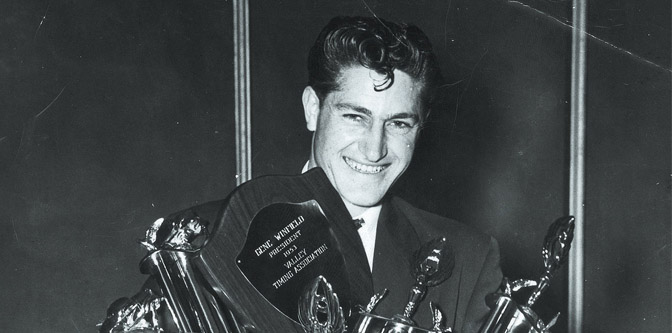 I already posted about my family's epic journey to Cruisin' Santa Maria car show over Memorial Day Weekend, but I did leave out one big highlight of the West Coast Kustoms event: Spending a little one on one time with Gene Winfield. Over the past 25+ years I've meet some of the late, great legends of the custom car world, from Big Daddy Ed Roth, to George Barris, the Alexander Brothers, George Bailon, Norm Grabowski, Bill Hines, Larry Watson, and more. Some of these guys had prime car-building years in the 50s and 60s, and then over the years slowly slipped into the 'elder statesmen' role later in their lives, focusing more on running shops or selling products than building original custom creations from the ground up. And who can blame them? Slinging lead and spraying metal flake can be grueling work that is unkind to a person's body as the years go by.
But not Gene Winfield. I've never met a sole on this earth who, in his early 90s, is more active building customs, more engaged with his fans and customers, or more downright busy just getting car stuff done than this man. I can only pray if I reach his age that I might have half of Gene's energy or skill, let alone that gorgeous head of hair and kind smile that the man possesses. Later this month he's gonna turn 92, and let me be the first to wish Mr. Winfield a very Happy Birthday!
42

Comments on the H.A.M.B.