The Mild Bunch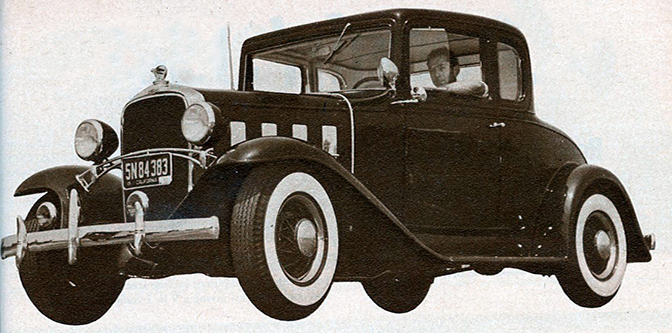 In the world of hot rodding and customizing, it's easy to overdo things. While viewing our sport's history, you could argue there was a time when going overboard was par for the course. Think of the flames, scallops, dummy blowers, canted quads, T.V.'s, bubble tops, full bars in cars—the list goes on and on. Traditionally speaking, modifying machines has been a pastime for the bold, so it only makes sense that builders have pushed the proverbial envelope since the very beginning. Today, we're going to look at the opposite end of the spectrum.
Let's start with some questions. First and foremost, how subtle is too subtle? What if a custom is too mild? If a hot rod doesn't look like a hot rod, then is it just a modified stocker? Or a sleeper? I'll leave it up to you to answer those. To help with the process, let's take a look at a couple of tasteful examples.
Exhibit A: "The Boltin' Bolt"
In the late-'40s, George Varden of South Gate, California, got ahold of a 1932 Chevrolet. He proceeded to turn it into a classy, functional and undeniably discreet hot rod. Other than the updated headlamps and taillights, the most extensive exterior change was the filled roof. But upon closer inspection, you'll see there was more to the story. Under the hood, George opted for a 232cid Chevy six equipped with a high-flowing head, drilled crank, GMC rods, Edelbrock dual carb intake and a Mallory ignition.
The customizations didn't stop there. For the interior, George had Jay Birds Top Shop cover the cabin in white and red tuck'n'roll. When combined with the black enamel paint and wide whites on wire wheels, the whole setup certainly was sharp. Was it radical? No. But it made for a nice driver nonetheless.
Exhibit B: "The Conservative Custom"

I've been reading car magazines for quite some time now, and the '49 Merc you see here is one of the mildest customs I've ever encountered in print. If we were to fill out a tech panel about its modifications, it wouldn't take up very much space. Owned by Bernie Clavere of San Francisco, the car was treated to frenched lights, a mild dechroming, subtle moulding, a louvered hood, and a little bit of lowering (one inch in the front, two in the rear). When it was all said and done, the convertible was painted Glade Green and outfitted with a white top from the famed Hall Top Shop in Oakland. I only have these black and white shots, but I'm sure the Merc looked grand in color.
***
So, what do you think? Both examples are attractive. When they first hit the streets in the early-'50s, they most certainly would have garnered the attention of those in the know. And, mild as they may be, they both would draw a much larger crowd in 2019—especially if they just rolled out of hiding. At the end of the day, they're customized old cars and I can't get enough of them. Are they too mild for you?
—Joey Ukrop
 Photos from HRM, November 1953
8

Comments on the H.A.M.B.