The Niederkrom Coupe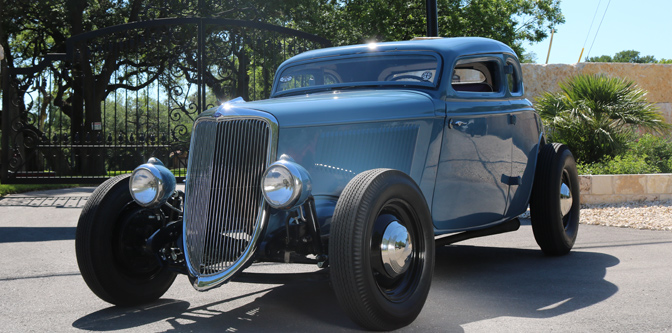 A few native Texans put on a new show this year in Wimberley, TX called the Hot Rod Showdown. It was one of those first year events that was so magical that you feel obligated to enjoy every last bit of it so that five years down the road, you can rub your pal's faces in it when you exclaim, "I was at the first one!"
Petty for sure, but… It is what it is fellas.
In any case, I was wandering the dusty back fields of the old Pioneer town where the show is held when I stumbled upon Chris Niederkrom and his son Dean. They were both kind of hovering around a TRD blue '33 coupe and I figured I would join them to shoot the shit. Knowing Chris had an unchopped/primered example of the same model, I figured he and his son were studying the blue car for inspiration.
It only took a couple of passes around the car before I knew I had found my pick for the show, but it took a couple of more before I realized the chopped, channeled, and painted coupe before me was actually Chris' old car. He and Dean had been pretty busy, but let's start from the beginning.
***
Chris' old man bought him the body as a graduation gift a number of years ago for $1,800. Chris argued that the price was just too much, but his dad shot back with wisdom. "Someday, that price will be a bargain," he said.
Damned old people and their hard earned acumen… Chris should have known better.
Before too long, Chris found a frame. It had been stashed behind a business in San Antonio after the owner built it up sometime in the late 1950's. For sentimental reasons, he wasn't eager to sell but Chris eventually talked him out of it – later learning that the axle came straight from Stanley Wilson – a local legend and Dago dealer.
By the early 2000s, Chris had the car built in the form that I knew and was driving the thing all over Central Texas in its unchopped and primered state. Having been there myself, I can relate to his complacencies… But by 2013, his circumstances had changed.
His son Dean had gotten some years behind him and a real passion for hot rods had grown along with him. Together, Dean and Chris wrote up a long to-do list for the car and then tore it apart in preparation for an epic father/son project. They chopped the top four-inches, channeled the body another two, filled and raised the inner fender wells, and essentially just cleaned up the stance and details.
The motor is a warmed over small block with 3x2s and classic '36 Ford torque tube exhaust. It's backed by an awfully convenient and purposeful 5-speed that transfers power to an 8-inch out back. Everything is suspended by a '32 spring up front and a '40 out back. Wheels were an obvious choice – '40 ford with 750-16 and 600-16 rubber.
Once all that was mocked up and figured, it was time to start thinking about paint. Chris and Dean did something that I've been thinking about for a while now. The latest Overland off-road trend has produced a number of trucks from different manufactures with really compelling color palettes. Toyota, in particular, has a couple of greys and blues in their TRD trim package that harkens back to the straight colors of the 1950s. The Niederkrom boys chose my favorite.
***
I caught up with them at the Showdown just a few weeks after the paint had cured and instantly fell in love with the car. After choosing it for my award, I started thinking about talking Chris into letting me do a photoshoot. As we were talking, I noticed young Dean was toting around a camera and seemed to know his way around it. "That kid a photographer?" I asked.
Indeed he is… Introducing Dean Hot Rod Photography fellas. This is his first shoot for The Jalopy Journal, but don't expect it to be his last. He may be young, but I'm old and with that age comes a certain amount of wisdom for shit like this. Dean's gonna be a good one.
Enjoy:
34

Comments on the H.A.M.B.