A Sixties Standout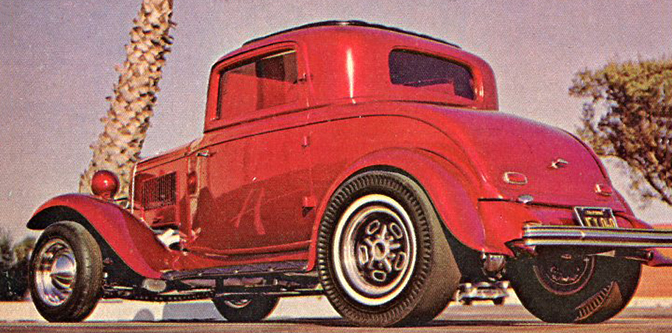 What does it take to stand out these days? Building something really good? Or really bad? Driving something very old? Or maybe very new? There's no right answer here—and our answers very well may vary—but one thing is for sure: you need to do something different.
I can still remember approaching this topic in eighth grade English class a lifetime ago. For my final paper, I worked to bring the reader along for a stroll through a larger-than-life outdoor car show. Flexing my middle school writing skills for all they were worth, I wrote about scanning the rows of cars and coming across one that stopped me in my tracks. A car that was, well, different.
What could I do but describe it on that perforated piece of notebook paper? It was a full-fendered, candy painted Deuce three-window with slicks, mags, button-tufted upholstery and a well-detailed engine compartment. It was built by a young guy in the '60s and, other than a few rock chips and cracks in the lacquer, survived virtually unscathed. Although today's feature car isn't quite the '32 from that creative writing piece of yesteryear, it checks plenty of those boxes. Let's take a closer look.
This particular Deuce was the pride of La Mirada, California's Jim Johnson. Originally from Michigan, his father ran Capital City Speed Shop in Lansing. Seeing that the son of a speed merchant needs to have a proper set of wheels, Jim acquired his three-window around 1960 and got to work. So, what is it about this car that makes it stand out?
First and foremost, there's the paint—bright Candy Apple Red that pops in the Southern California sun. Even though the car isn't chopped, channeled or fenderless, it still has tons of impact thanks to its color. When paired with the red windows, the entire package has an undeniably '60s appearance. Oh, and the button tufted cabin, roof insert and diamond-pleated running boards don't hurt either.
With the show comes the go (and lots more woah!) courtesy of a 354cid Cadillac. Highlights include a pair of four-barrels, a Potvin cam, Jahns pistons, Thompson rods, and Picket & Wilson tube headers that poked through the hood sides. Backed by a modified Cad Hydro, the combination was good for low 12-second e.t.'s at 112mph.
Jim's '32 was a standout when it hit the scene more than half a century ago, and I can't imagine the impact it would have if it rolled on to the streets of SoCal today. It's visually loud and undeniably unapologetic. It's a different, beautiful Deuce, and that's why we're showcasing it here today. Enjoy!
—Joey Ukrop
 Photos by Steve Scott, Popular Hot Rodding July 1964
20

Comments on the H.A.M.B.