Day 2: Sand Springs, OK
Today I drove a few more hours north to Sand Springs, OK where I hung out at Hot Rod Garage Inc, drank moonshine, scared the shit out of some golfers, and shot Brandon's roadster. It was a long one, but a good one…
Tomorrow will be longer. I'll be hooking up early and heading towards Nebraska where more hot rods are in line to be butchered by my camera. I will show them no mercy and they will not be flattered for it.
Until then, enjoy this shot of one of my favorite roadsters out there right now: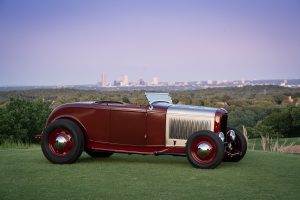 Expect a full feature soon…
15

Comments on the H.A.M.B.