Triple Threat A? OK!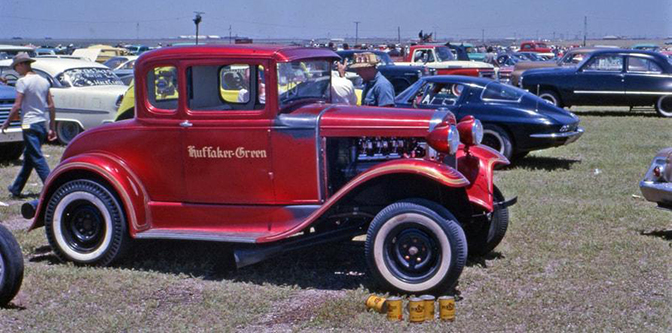 Sometimes I forget how hard it is to remember things. Whether it's my wallet when I leave the house or the displacements of early Oldsmobile V8s, nothing's exempt from forgetfulness. Although it's no fun forgetting birthdays and important conference calls, it doesn't bother me when a car photo slips my mind (on occasion). Like finding a lost dollar in a coat pocket, there's an unmistakable sense of joy in the rediscovery.
Earlier this week, I fired up my old computer and was poking around the desktop. Through the sea of icons, I worked my way over to one of my favorites titled "Misc. Hot Rods." Unsurprisingly enough, it was filled with shots from here and there that I remembered plucking off the H.A.M.B. or other hot rod-related sites. At the end of my search, I came across a single snapshot of this 1931 Model A and knew I needed to find out more.
I was drawn to this photo for a number of reasons—most importantly because this coupe is at an interesting point in its life. Full fendered and sitting tall, it looks like a street/show machine that had been set up for drag strip use. Sure, it has shoe polish numbers on the windshield and open headers, but I have a good feeling that this one could have been driven home after a hard day at the track.
The candy red paint, gold scallops and pinstriping scream show car, as does the white tuck'n'roll interior and matching whitewalls. The roof was filled, the cowl lamps removed (note primer splotches) and a smallblock Chevy found its way between the rails. Keeping with the strip/show theme, it features a sextuplet of chromed Strombergs, Corvette valve covers and a Vertex magneto.
The origins of this photo are anyone's guess, but it looks as if it were taken somewhere east of the Rockies around 1964. At first glimpse I thought Midwest, and then, upon further inspection, I'm leaning more towards Texas. Why? Two reasons. First, the style of the car and the entire scene reminded me of Donald Goldman's drag racing photography from the early-to-mid-'60s. Second, the "Huffaker-Green" lettering on the door. Although the Huffaker name has long been associated with SCCA racing, I'm inclined to think it wasn't linked to this Gasser. After some searching, I discovered the Huffaker-Green & Huffaker law firm in Tahoka, Texas. Maybe they had a hand in the build?
Just like that, I have more questions than answers. Do you know anything about this triple threat A?
—Joey Ukrop
8

Comments on the H.A.M.B.