What's New on the Book Shelf?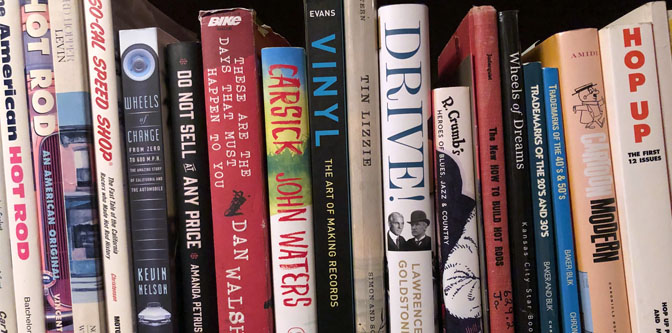 You might have previously read a some of my suggestions for hot rod book essentials and another one on vintage photo reference books. Today I want to share some recent literary favorites that were gifts from friends. These may not be strictly hot rod books, but at least 'motor-related', and all worth the read, in my opinion:
"Wheels of Change: From Zero to 600 M.P.H. The Amazing Story of California and the Automobile" by Kevin Nelson
The title says it all, doesn't it? A great book about the Golden State's long history of influencing car culture, from racing on the Dry Lake Beds of El Mirage to Hollywood Stars like James Dean and Steve McQueen, to the So Cal Customizers and Speed Shops. It's well-researched and very well-written.
"These Are The Days That Must Happen To You" by Dan Walsh
I'll caveat this one with two things- Walsh is not the best writer, and comes across as a bit of a jerk at time… But he argues a good point about taking risks, leaving everything behind and going on a motorcycle journey that most would just dream of, but never attempt. He sums up why I still prefer riding my motorcycle to jumping in any car: The bike forces you to leave everything behind, clear your mind, and be a more active part of the world around you.
"Carsick" by John Waters
Yes, this is *that* John Waters, that directed 'Pink Flamingoes' and 'Hairspray'. The book is more of a hitchhikers memoir as he travels from Baltimore to San Francisco while holding cardboard signs such as "Midlife Crisis," "Writing Hitchhiking Book" and "I'm Not Psycho." There are some damn funny moments, and it reminds me of how many interesting people I've met traveling on the open road while driving old cars.
"Drive! Henry Ford, George Selden, and the Race to Invent the Auto Age" by Lawrence Goldstone
This is a 400 page book that chronicles the birth of the automobile, laying out the twists and turns as American inventors fight over patents and rights to the gasoline driven motor car. Goldstone does a great job of pulling you into the seedy story with the ruthless Henry Ford and his cutthroat pursuit to eventually build the Ford Motor Company and a Model T empire.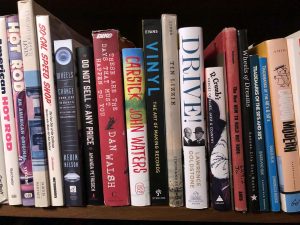 1

Comments on the H.A.M.B.