Parade of Progress: Our American Crossroads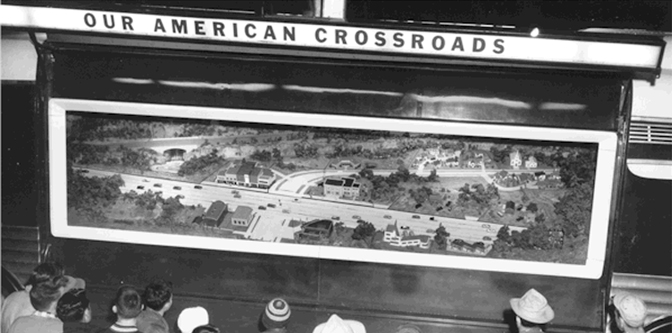 We all know the story of General Motor's 'Parade of Progress' that used a series of buses and tents to create a roadshow touting the automobile industry, technology and innovation at it's best in the 1940s and 50s. The custom coaches were called the 'Futurliners' and each one carried a unique exhibit. Bus #2 stands out in my mind as the best of the best, carrying the 'Our American Crossroads' diorama. I first saw it in action at the Detroit Auto show sometime in the early 2000s, after GM had pulled it out of long term display at Chicago Museum of Science and likely spend several suitcases of money restoring the incredibly complex mechanisms to their original glory. It's hard to explain, or even show in the videos below, but it you ever see it in person, you wont soon forget what you saw. It's the history of the American town and the automobile, told as the diorama actually transforms, scene by scene, via mechanical plates and models. It's a testament to what Detroit could do when they put their mind to it, and it rules. The videos don't really do it justice, but see for yourself:
9

Comments on the H.A.M.B.