Two T's, Standing Tall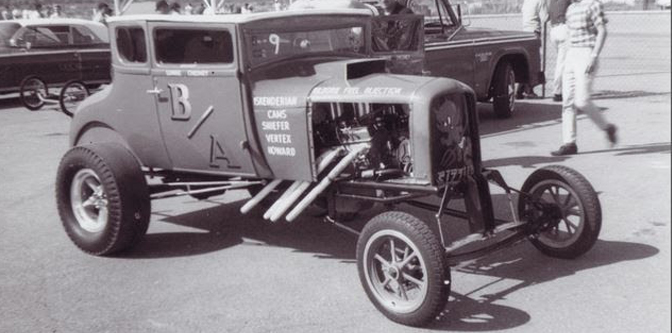 Hot rodding is a sport of evolution, and nowhere was it more apparent than at the drag strip in the 1950s and '60s. Week in and week out, cars would be constantly changing in a quest for faster speeds and quicker elapsed times. Seeing that hot rodders are a competitive bunch by nature, the results were nothing short of fascinating.
Hot rodders are smart and hot rodders are thrifty. They're not afraid to study (cars) and they're always willing to learn. Sometimes their experiments work—sometimes they fall flat, and sometimes they fail spectacularly. This week, I found a pair mystery Model T-based hot rods that are sure to raise a few eyebrows here in 2019.
First, we have a high-riding T built for the B/Altered ranks. Dubbed the "Sizzler," the car was a conglomeration of early Ford sheetmetal that included a heavily chopped coupe body, Model A cowl and sectioned Deuce grille shell. Rather than flimsy stock rails, the T sported a custom tube chassis built to handle Hilborn-injected smallblock that was tucked beneath a homemade box scoop. With American Racing mags on all four corners and gold leaf lettering on the doors, it seems like it was a well-funded effort. On to the next…wait a second. What about that front spring perch?! Woah! Rather than lifting the nose in a conventional fashion, the builders of this machine opted for a flat spring and giant perch—almost like a single lift block of sorts. Yes, weight transfer is important, but this looks pretty iffy to me.
***
For our second subject, we have a Model T roadster that was living on the edge. Rather than the Altered classes, this one was built for A/Street Roadster competition, where full street equipment was mandatory. Remember that part about hot rodders pushing boundaries? Check out the tiny tractor headlights, basic interior and cycle fenders all around. (If I were to wager a guess, I'd say they were swiped from a Schwinn Varsity or something similar.)
In the chassis department, the "Chevy 'TEE' Fine" used a strengthened (?) stock frame and a tube axle suspended by a transverse spring up front. The brakeless American Racing 12-spokes helped cut weight, and the injected big block Chevy provided plenty of power. With this configuration, there's no doubt that it was a flexy flyer.
And so you have them, two very different T's built for the same purpose—going fast. Which one would I rather take for a quarter-mile blast? Probably the first, because the roof over my head would presumably add a degree of safety, but I'd still be apprehensive. How about you?
—Joey Ukrop
 Photos found on the H.A.M.B., a long time ago…
12

Comments on the H.A.M.B.