The Lars Mapstead Roadster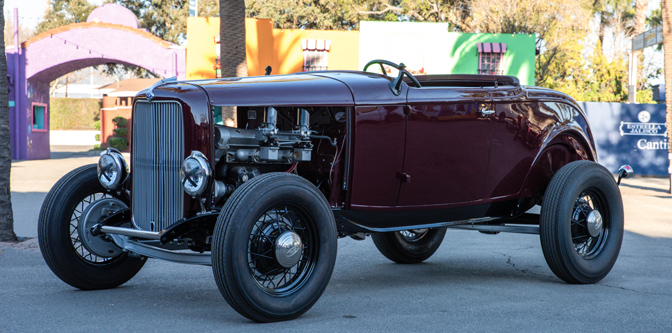 When I feature a car, I typically send over a tech sheet for the owner to fill out. I then stare at that tech sheet along with the feature photos until I come up with some sort of an angle to write about. I've been doing exactly that for the past half hour or so – staring at the sheet that Lars Mapstead filled out and the photos that Tom Davison took of his roadster.
It's not that I'm struggling to come with an angle – I'm not at all actually… It's just that Lars beat me to it. Obviously, the motor is the focal point of this roadster and no story on it would be complete without a rundown of how it came to be. And I had planned to write a condensed history of the Dreyer setup, but I just kind of fell in love with the way Lars wrote about it on his tech sheet.
"In 1930, Pops Dreyer began development of a twin cam head for the 4-cylinder Ford Model A block – a project which he approached with care and attention to detail. He hired Everett DeLong to do the detail engineering and took the time to find the very best foundries and machine shops to produce a high quality engine that would rival in its performance the jewel-like products of Harry Miller and Augie Duesenberg. Design, pattern-making and development were delayed by the shop's workload, which turned out to be serendipitous as in 1932, Ford introduced a vastly improved 4-cylinder engine – the Model B. Dreyer quickly adopted its much stronger block as the basis for his four. It was, of course, a dual overhead camshaft design using an adjustable 15-gear train for the cam drives."
I think what I like so much about this passage from Lars is that you can kind of read between the lines and see not only how knowledgable Lars is, but how passionate he is about his roadster. The cadence, the words he chooses to use, everything… This is a man that knows just how special his little car is and he can communicate that not by beating his own chest, but by honoring the history that made it possible.
I love that… And I absolutely adore this car.
Essentially, it's a stock '32 roadster with the previously mentioned and very special motor, a few drivetrain changes to support that, and a few heavy things removed in the pursuit of speed. The ride height is unaltered and only the '39 trans places the car in the vicinity of the 1940's. Everything else points to this car being a very early effort to make a 1932 Ford go very, very fast.
People forget that when the flathead V8 first came out in 1932, it was still taking a backseat to the performance of the Model-B motor. While the new flathead had tons of untapped potential in front of it, there had been years of aftermarket R&D behind the banger and when it came to making torque, the flathead just wasn't ready to compete against the little four quite yet.
So imagine its just before the outbreak of the war and you are wanting to build the quickest '32 roadster on the street. Would you be more inclined to run a flathead V8 with maybe an early two-pot intake, a cam the manufacturer had a pretty good idea *might* work, and some heads to match? Or would you be better prepared with a double overhead cam setup driving the valves of Ford's improved Model-B block?
The answer to that question is why I think this build is so smart. Lars had this special engine and instead of going all crazy by preparing a '32 with every rare and/or damned part he could find, he kept it simple and pure to the point. He built the kind of car that you would actually find this motor sitting in if it were, in fact, 1938 or so.
This one is special fellas… and while the motor is certainly the focal point, it's the vision of the owner's overall build that makes it more than a sum of its parts.
Editor's Note: After this one published I learned that Clayton's Hot Rods was responsible for the build and thought it was appropriate to make sure that was listed here. Clayton knocked this one out of the park.
Lars also sent over a few build photos I thought you guys would enjoy:
59

Comments on the H.A.M.B.