The Manuel Reyes '36 Coupe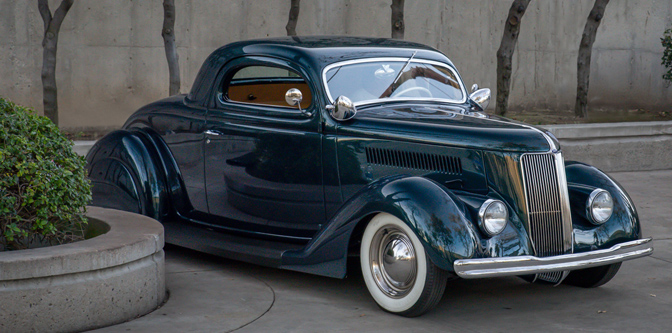 In 1978, Manuel Reyes found himself an honest to goodness 1936 Ford coupe. Soon after, plans began to incubate and visions of a street rod emerged. But Manuel's neighbor, Bill Lyder, was having none of that. He suggested that deep down, the car was pleading to some day be a custom. Manuel sat undecided until Posies debuted his own '36 Ford – a bright yellow traditionally styled custom.
Manuel's fire was lit. A stylistic time period was set to around 1948 and the slow morph began. Slow, because Manuel had lots of living to do. In fact, the car sat pretty much untouched for 20 years and it wasn't until around 2000 or so that the work actually began. From there, it took another 17 years before the car would roll off the lift and into the streets.
All of the sheetmetal work was handled by Geoff Mitford Taylor and Steve Morrow at GMT Fabrication. They chopped the top 3″, graphed in the '40 Chevy headlights, added the '41 Packard taillights, shaved the necessary bits, and the cleaned up what was left with one eye on the Calori Coupe and another on a dictionary earmarked to the word, "restraint." Once it was buttoned up, Manuel sprayed the car himself using a custom mixed metallic emerald green 2-stage from PPG.
Mechanically, the car was modernized a bit and simplified a whole lot. A stock small block is mated to a TH350 tranny bolted up to a 1958 Ford wagon rear. It's all detailed fastidiously – things like polished and clear coated fuel lines, matching brass fittings, and nice paint work is all over the under side of this thing. And it's supported by a frame that was done up by Pete Eastwood – post Pete & Jakes but pre So-Cal Speedshop. PC3G was on his business card back then.
Once the car was finished, it looked phenomenal but had issues with clearance. Driveways were all but impassible and even the drive-in to building 5 at the GNRS was a problem. So Manuel had Jimmy over at Circle City Hot Rods raise the ass end a couple of inches to help with obstacles. Eventually, air ride was added to automate the process.
The interior follows suit. It features a modified 1940 Ford dash and some simple stitch work by Frankie at Sew What Upholstery. The common theme here is tan, tasteful, and practical. It feels early, but probably functions a bit better.
And when you step back and look at this car, that's kind of the theme. The car feels like an early custom visually, but the more you look and the more you explore, the more you begin to see little details where concessions were made towards functionality. The drivetrain, the suspension, etc… have all been modernized, but not to the point where it's distracting from the overall traditional feel of the car. This seems like a simple enough objective to meet, but in reality it's not all that easy… and in my opinion, not everyone is capable of pulling it off so convincingly.
Nice work Manuel.
***
Tom Davison shot this car for me at this year's GNRS. I think what drew me to Tom's photos was the chop. There's nothing distinctual about it and, in my opinion, that's the key to chopping one of these cars. As soon as a line if out whack or a transition isn't met perfectly, the look of the '36 is ruined. And really… is there anything worse than a '36 with a choppy profile?
Anyway, enjoy the photos:
Special thanks to both Tom Davison for the photography and Manuel Reyes for letting me do the feature. You guys are alright man…
21

Comments on the H.A.M.B.