Featured Classified: 1955 Pontiac
Historically, not a lot has been done to the 1955 Pontiac. In fact, off the top of my head I can't think of a single example from the little books. Which is weird… Because it's actually a pretty car.
Take a look at this older restoration I just stumbled upon in the classifieds:
It's listed at $22,500 which is a lot of coin, of course, but it looks as though it has been mechanically restored and should be a solid base for a drive as you customize candidate. Hell, it's even done in classic Pontiac colors. In fact, this is the combo that Pontiac used to introduce the car in 1954: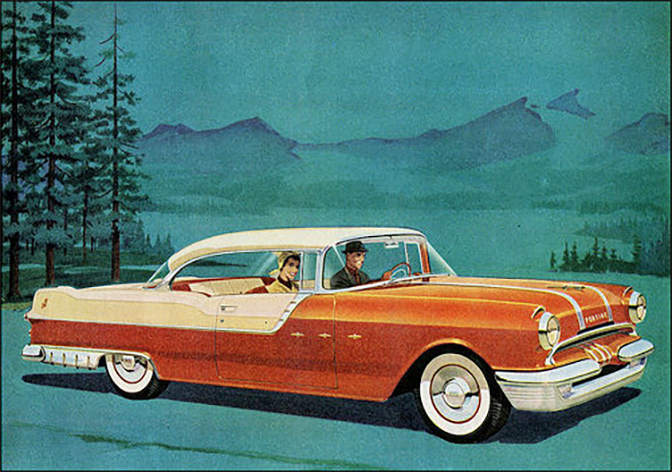 Pretty great, right? But where do you go from here? Me… I work on the stance first. I think big cars like this do well with a "Lee Pratt" stance. By that, I mean you get em just low enough to drive comfortably and then you lower it another inch or two. From there, I'd shave the handles, mirrors, continental kit, Pontiac stars on the front quarters and doors, and then finally get to work frenching both the head and tail lights.
I'd cap it with rolling stock… and I'd want to get something close to Pontiac's original concept as pictured above – Simple caps and 3″ white walls. Then, I'd call it done…
What would you do?
Editor's Note: I don't the seller or anything about this car, but you can see the advertisement here.
22

Comments on the H.A.M.B.