Four of a Kind for GM '59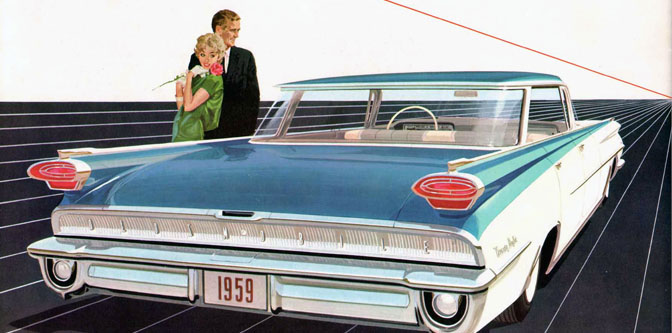 `Here's we are at the end of 2018, and in the blink of an eye it's already 2019… I'm going to pretend for a moment that it's actually December of '58, sixty years ago, and most of the new Detroit models for 1959 have already hit the showrooms. Who had the very best designs premiering that year? What are the four absolute top new cars for customizing in '59? Well, let me caveat that I think General Motors Design Department took all the style cake at this point in history. Some of the FoMoCo models that year are nice as well, but not nearly as elegant as their GM counterparts, in my opinion. The majority of Mopar models began to get really fussy at this point too, with designs that are busier than what they needed to be. None are bad cars per se, but there is a reason that Chevy began to outsell Ford (and everyone else by a long shot) for the first time starting in 1958…
In no certain order:
1959 Cadillac Coupe de Ville: How could you not appreciate one of the most over-the-top, fin-tastic rocket-inspired 50s design icons of all? Yes, it's massive and perhaps laden with a bit too much brightwork, but if you look up the word 'presence', there should be a '59 Caddy there somewhere. Larry Watson loved this car enough to sell his '58 Squarebird and buy a new Series 62 coupe that year.
1959 Chevrolet El Camino: It was an all-new model and an all-new design for Chevy that year. The El Camino wasn't a high-volume model, but it showed that GM could make anything look cool when they put their minds to it. I can't think of a better late 50s Drag push vehicle either.
1959 Pontiac: I've got a very sweet spot for '55-62 Ponchos, and the '59 is one of the very prettiest. This was the first year of the low, wide track bodies that carry the brand into the 60s. First year for the legendary 389 V8 as well. Bonneville, Star Chief, and Catalina all rode on the same wheelbase, and anyone of them would work just fine for me.
1959 Oldsmobile: Between Buick and Oldsmobile this year, I tip the hat to Olds mainly because the Buick gets prettier in 1960, while the Olds refresh was more mild. Fully admitting that more guys customized the Buick than the Olds that year, and I know the front end headlight arrangement is a love-or-hate-it deal, but it's weird in a good way, and overall lines of the car are dashing… A 315 hp Super 88Holiday 'Sceni-Coupe' would do the trick for me.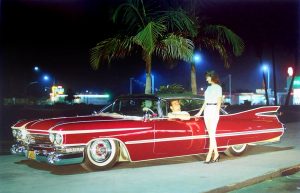 9

Comments on the H.A.M.B.