Axle And Li'l Axle And The Dago Deuce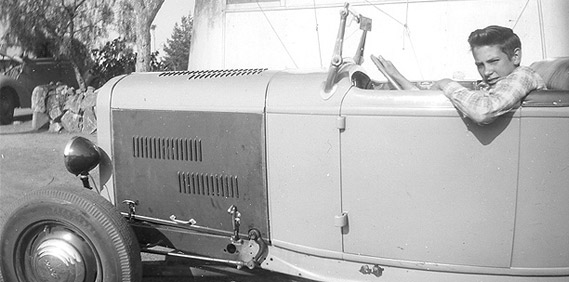 Not until John Buttera gave rodding the gift of machined billet aluminum in the '70s would a piece of hardware impact the look and character of hot rods as much as the Dago axle did in the late '40s. Given the nickname of the town from whence it came, San Diego – "Dago" – the Dago dropped axle, was requisite metal for any ride worthy of being called a hot rod. Re-manufactured, as it was, and marketed by San Diego speed merchant Ed Stewart, the axle was such a pervasive part of hot rodding that it's nickname became a description for a down-in-front hot rod; when someone described a car as "Dago'd" there was no question about it having a nose-down stance.
Ed Stewart, nicknamed "Axle" by friends and customers, didn't invent the dropped axle but he might as well have. Before he began massaging old Ford axles into new hot-rod parts, axle dropping was rarely done on anything other than a one-shot, hit-or-miss basis, with the results a miss more often than not. An uncertain process just wouldn't do for Ed, a heat-treat specialist by training and a hot rodder in spirit. Instead, he sought a correct, sure-fire method, and that was provided by Abe Kobeck at Rogers Auto Carriage in San Diego. Abe, an old-school craftsman, taught Ed to drop axles using the drop-hammer method in which the end of the axle is progressively pushed into shape beginning at the spring perch, as opposed to the more-common "taffy-pull" process where the axle is stretched into shape. With the drop-hammer push approach, the molecules in the steel remain tightly bunched, whereas in the pull method they are spread apart.
Ed's axles had a reputation for being tough and well made, and they're as treasured and sought after today for those attributes as they are for their history. But axles were only a part of the Stewart family's history which encompasses the total spectrum of hot rodding's golden age in pre- and post-war Southern California.
Ed Stewart was just 20 years old when Ford introduced its affordable V8 that was every motorhead's dream, and just two years older when his son, Bob, debuted in 1934. In the tight Great-Depression economy, and with a child to rear, the magic new motor was for a time just beyond the reach of the young hot rodder's grasp but not his dreams. Ed would have to content himself first with a Model T and then a Model A roadster with a hot-rodded four-banger until around 1938 when he got his first V8, a 21-stud flathead to replace the four in the Model A. And the Model A got a new name — Ol' 8-Ball.
In the late '30s, Ed and friends Boswell "Bozzy" Willis and J. Otto Crocker took to the dry lakes of the Mojave Desert along with hundreds of other like-minded Southern California hot rodders. Bozzy, a camera buff who thankfully documented much of the activity at the time, had a four-cylinder modified called "Steam Beans" on which, along with "Ol' 8-Ball", they focused much of their early racing interest.
Ed, Bozzy, and Johnny Vesco, himself the patriarch of a veritable Bonneville racing dynasty, founded the San Diego Roadster Club in March 1941 as a lakes club, largely in part because club affiliation was required to run at sanctioned lakes meets. The organization, still going strong, has never been dormant during the intervening 67 years, although the lakes-racing orientation has changed over the years.
During World War II, when Ed worked at the Navy's North Island facility as a civilian employee, he would put on picnics for sailors stationed there who had little to do with their off-duty time. As Bob Stewart recalls those weekend get-togethers, the sailors — often a hundred-plus — would bring hot dogs and steaks and beer and "…barrels of ice cream" — all the good stuff that was either rationed or unavailable to civilians — and the Stewarts would handle the preparation and provide the venue at a local park. The picnics were a big hit with the young salts, away from home and loved ones, often for the first time and certainly for "the duration." "My dad was a hero at North Island," Bob Stewart says. Ed was also an inveterate and skilled trader; as Bob relates, "My mother would make up peanut-butter sandwiches, which the sailors couldn't get, and my dad would take them to work and trade them for steaks!"
The first Stewart speed shop began in the one-car garage of the family's Suncrest home east of San Diego, and later moved to another one-car garage on the alley behind a new home at 320 W. Washington in San Diego proper. Ed dealt part time in speed equipment sales and installation, and it was here that the axle business took shape. Ed and Bob would drive to El Centro to tour the wrecking yards and pick up axles which almost always included wishbones and spindles. Abe Kobeck, the Stewarts' mentor in the art of axle dropping, taught young Bob how to remove perch pins. "Want to know how to remove perch pins the right way?" Bob asks. His proven approach is based not only on Abe's instruction but also on the removal of what may well have been several thousand stubborn perch pins. "You need an eight-pound sledge and two anvils," to firmly support the axle he says. "It takes only one swing." He then adds that that's all you get — one swing. Is it foolproof? "Ninety-five out of a hundred will come out that way," he says. And the other five? "You do whatever you have to to get them out." Just like the rest of us.
After the actual work of dropping an axle, and after it had cooled, it was cleaned up and the spindle bores were dressed with a Sunnen hone to ready it for the customer. At the peak of the axle business, the Stewarts were shipping axles all over the country as well as supplying their regular speed shop customers. Bob says he was hard pressed to understand where all the axles were going. "I lived in one corner of the United States and I thought it was the only place where anything was going on." It wasn't until he met some hot rodders from Texas that he saw "… the scene was going on elsewhere."
Bob Stewart's nickname "'Li'l Axle" was bestowed on him by the Stewarts' wholesale customers, speed shops like Shell Motors, Bell Auto Parts ("My favorite," says Bob.), Moon, Karl Orr, Cal Auto, among others that he would visit on his regular route, delivering dropped axles and picking up cores and parts for the Stewarts' shop to sell. A trip took the entire day.
Good original axles were the core of the business, one could say. New stock ones from Ford were $10, and with a dropped axle retailing for $12.50 — $7.50 to a dealer — a steady supply of droppable used stock axles was essential, provided by core returns as well as wrecking yards.
Bob was also chief block and head porter at Stewart's Speed Automotive. "I would do two porting jobs a week at $35 apiece for seventy bucks a week," he says. It was pretty good money for the teenager who also did most of the machining — boring, honing — and valve work, for which he was paid an hourly rate.
In 1952, Ed retired from North Island after 12 years working for the Navy and put together all the money he could to buy a piece of property on Congress St. near Pacific Coast Highway in the Old Town area of San Diego, and start the speed shop in earnest. The business remained there until the end, in 1959, competing with only two other speed shops in the San Diego area — Al Jerauld's in National City and Paul Schiefer's shop which would evolve into his famed clutch and flywheel company.
.    .    .
Bob Stewart, born into hot rodding, came of age in what is widely regarded as its finest time — the prosperous post-war period during which hot-roddable Fords were inexpensive and a burgeoning speed equipment industry was rushing to fill the needs of an eager market. Experimentation and innovation was the energy that fueled the sport, no longer make-do as it had been before the war but now approached from a what-if mindset with adult hot rodders having the wherewithal to pursue their best ideas in style.
For young hot rodders, not yet having attained their majority, it wasn't quite as easy as some recall, says Bob. "I was probably a little luckier than most people," he admits, with reference to his dad and his involvement in both the movement and the industry. But, "There was no glamor in hot rodding. It was a lot of scrimping and working." The goal, for the young gearheads, "…was to attract girls," but after building the hot rods to win their hearts, "…we never had any money or time to take them out," he laments, laughing. "We cruised from drive-in to drive-in looking cool, between overheating!"
Bob had a number of desirable hot rods in the '50s, but his first, a chopped '32 Ford Victoria that he rescued from a most-certainly short life as a dirt-track hardtop, was a favorite. When Bob first saw the car it had just been purchased by a local service station operator who was preparing to turn it into an oval tracker. With a little cajoling, Bob got the fellow to agree to trade it to him for a solid '32 five window coupe. Bob rustled one up for $10 in short order and the Vicky was his.  "Joaquin (Arnett) chopped the Vicky for me for a pair of Edelbrock heads," Bob says. Joaquin, a legend in SoCal hot rodding was even then considered expert at top chops and other body modifications. As Bob watched, Joaquin carefully applied masking tape to indicate where the cuts were to be made. When he was through with that task he told Bob to call him when the cutting was done and then left. Bob rose to the challenge of this unexpected new experience, and when he had made all the designated cuts, using only a hacksaw, he called Joaquin who returned and expertly stitched the shortened turret back together and metal finished it to produce a first-rate chop job. "Those heads were worth about twenty-five bucks at the time," Bob reflects. Hot rods were still relatively inexpensive to build at the time. "I had about $600 total in the car," he recalls. He certainly got his money's worth from the Deuce, driving and racing it for six years before selling it to another San Diego rodder, Andy Bekech, who only recently sold it at the '09 Barrett-Jackson auction in Scottsdale.
In 1949, at age 15, and while he was building the Vicky, Bob joined the Prowlers car club — their youngest member — "…most of the 'old' guys were 18 or older," staying heavily involved with the club from 1949 to 1956. Their affiliation with the RTA — the Rusetta Timing Association — allowed them to run coupes and sedans as well as roadsters, modifieds, and 'liners at the lakes; The SCTA (Southern California Timing Association) still would not permit closed cars in competition at the time.
Ed, Bob, and the roadster were regulars at both SCTA and RTA meets from 1946 to 1952. The elder Stewart also built and ran a small belly-tank lakester powered with a V8-60, both at the lakes and at Bonneville. The tank ran around 140 mph, and Ed's chief competition came from fellow San Diego speed merchant Al Jerauld in a similar tank. "They went back and forth with wins," says Bob who ran his Victoria against Dean Moon's '32 chopped sedan during the same period. "Dean would beat me by 1 or 2 miles-per-hour every time." Bob's own best speed with the Vicky was 127 mph.
In 1952, Bob teamed up with pal Bud Henry, putting his motor in Bud's '34 five-window coupe for the Bonneville Nationals. "We flat-towed the coupe to Bonneville with a '40 Ford pickup with a junk motor," Bob says. With precious little money for their operation, they slept where they could and "…survived in Las Vegas on casino food." Then as now, the casino restaurants and coffee shops would feature super-cheap meals to lure gamblers. "We weren't in contention at Bonneville," Bob adds, "But we had fun." In 1956, Bob teamed up with his dad to run a '34 three-window coupe. It would be Bob's last time on the Salt until 1992.
In 1956-57, Bob's interests and abilities lead him to work with Bruce Crower, Dwight Osborne, and several other young San Diego gearheads on the crew of the Helse Special, an Offy-powered Kurtis KK500D, for the Indianapolis 500. For Bob, the association ended after the 1957 race as he was about to face one of the most difficult times of his life.
Ed Stewart died quite tragically in 1957 at age 46 while on vacation at Lake Tahoe, when he and his second wife were asphyxiated in their sleep by the heater in their camper. Bob, just 23 at the time, was devastated by his father's death, and while he had been carefully mentored in the mechanical side of the business he lacked the experience and confidence to run it successfully. In addition, the large shops were coming into existence, and hot rodding was swinging rapidly away from the streets and toward the drag strip. For young Bob whose experience lay in the nuts-and-bolts side of the business, it was overwhelming. He managed to hang on until 1959 when Stewart's Speed Automotive closed its doors for good. In August of that year, Bob disassembled his dad's Deuce in preparation for a complete re-do. The roadster would remain in that state for the next 28 years.
Bob got completely away from racing in the '60s, and instead parlayed his skills into a successful restoration business. He also became heavily involved with the Early Ford V8 Club, an essentially preservationist group then in its infancy. "I restored about a dozen cars during that time," Bob says. "I got involved with Porsche 356s — discovered cars other than Ford." He also got into street rodding in the '70s and met Ed Hegarty from whom he learned about the NorCal scene where today he's an adopted regular.
Bob maintained touch with the Southern California hot rodding community through old friendships and as a faithful spectator at Los Angeles Roadster Club meets beginning with the second one at the Hollywood Bowl. Almost from the start "…people would ask 'When's that roadster gonna be done?'," he says. "I'd tell 'em 'I'll have it here next year.'" That pattern continued until 1987 when Bob confronted himself about the car's status and his lack of real progress with it. While he had done some sub-assembly work over the years and gathered parts he wanted to incorporate, the once viable daily-driven lakes roadster was just another parts pile.
From the point at which Bob seriously began to build the car again, just two more years would pass before it was back on the road. It would return with flathead power; Ed had Bowtied the car in the mid-'50s but Bob remembered and loved it best with a proper L-head under the hood. The Deuce was exercised regularly, carrying Bob all over the West to visit old hot-rod buddies and attend get-togethers. During most Summers Bob and the Deuce found their way to Bonneville, usually in the company of old pals, running down the highway in a pack. After a dozen-plus years of high-mileage roadstering, Bob sold the Deuce to John Mumford in 2005, with the car to take its place in Mumford's collection.
.    .    .
Bob Stewart lives today in retirement with his wife Kathy in Grants Pass, Oregon. His ticket to the past is a '49 Merc, freshly done in solid Fifties style as a mild custom. It shares space with tidy shelves and display cases filled with automobilia Bob has collected since he was a child.
Looking back, Bob says he's quite happy to have lived during the era in which he grew up. That he feels blessed to have had Ed Stewart for a father, mentor, and friend is obvious in his reminiscences of that special time. His love for the cars of that era has not diminished a bit over the years. "When you're getting as old as we're getting and you beat the crap out of yourself in a roadster, you've got to be having a lot of fun."
.
*Over the years the unique instruments in the Stewart roadster have received several labels, each of them significant. They've been called "North Island gauges" because they were "sourced" from the U. S. Navy's North Island repair facility in San Diego. They've also been dubbed "Lunch box gauges," with reference to the manner in which they were sourced, one at a time. Bob likes the sobriquet "Old-man gauges" because of their size, easily read by old men with deteriorating eyesight. The large-face Stewart-Warner instruments are handsome, and while there has been much speculation about their intended application, Bob offers that it was probably something as mundane as a stationary engine, such as a gasoline-powered generator. Whatever the original intent, these instruments have doubtless enjoyed a much better life than they would have otherwise had.
43

Comments on the H.A.M.B.