Ford at the World's Fair in 1934 and 1935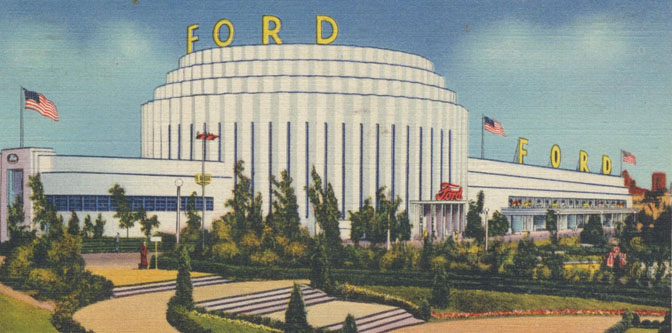 I've written about Ford at the 1964 World's Fair before, but here's some footage of Ford's first presence at a World's Fair, and it goes back 30 years earlier. Chicago hosted the Century of Progress Exposition from 1933-34 with a theme of  'Progress' to help Americans feel some sense of optimism in what was the height of the Great Depression. The Ford Motor Company put on a massive display of that progress, covering 11 acres and dozens of live demonstrations and interactive displays on the manufacturing of their fine automobiles. It was such an ambitious and comprehensive exhibit that Ford stole the show from practically everyone else, and was visited by nearly 40 millions guests during the Chicago Fair! The following year, 1935, the California Pacific International Exposition was an exposition held in Balboa Park in San Diego, and Ford was there again with an updated, albeit slightly smaller display. Below you'll find a film that covers the Ford displays at Chicago and a bit of California as well, including a possessed '35 Roadster making it's way out West… Alone.
I find it amazing how much a single car manufacturer could invest in a cultural event at this massive level at the Expos, not just sponsoring a display or two, but actually celebrating the engineering, the process, the materials and design of their automobiles as the modern marvels of American ingenuity they were (and still are). How many young gearheads were there and got their own inspiration later build and modify Fords of their own?
13

Comments on the H.A.M.B.