Otto Ryssman Rolls the Post Special
By all accounts, Otto Ryssman is one crazy bastard. As one of Chuck Potvin's best pals, he spent his early days of racing essentially being a test bed/driver for all of Chuck's ingenious inventions. Together, the two experimented with elaborate Zephyr ignition systems, insane carb combinations, exotic fuels and, of course, Potvin's lumpy cams.
The long course soon gave way to the short course when the Santa Ana drags opened up in 1950. Now, most folks claim that "the bug" was the first sling shot dragster… BUT, Otto might have a differing opinion. See, he and Tiny Conkle began to experiment with a dragster design a few years earlier. They matched a pair of bare frame rails with a set back flathead and a one-foot driveshaft. The combination was bare bones and pretty damn successful.
Still, Otto wasn't finished feeding the beast. He had the urge to see what 200mph felt like and the pals to help him find out. In 1952, he drove the "Post Special" streamliner to 222.57 mph and became one of the first members of "the club." On a subsequent run, Otto earned his stripes.
From an Orange County Newspaper:
Ryssman Reported O.K. After Crashing at 222
Santa Ana's daredevil driver Otto Ryssman was reported in good condition today at a Salt Lake City hospital, following a spectacular crash in yesterday's National Speed Trails at the Bonneville Salt Flats.
Ryssman's sleek $4000 Class E streamliner was demolished in the crackup that came right after he had posted the fastest time of the day at 222 miles per hour.
Just as he crossed the finish line of the measured mile, the car blew a tire, overturned, threw its Chrysler v8 engine through the superstructure and skidded more than 1000 ft.
Ryssman is a graduate of drag racing at the Orange County Airport Strip.
Not long after, Otto was competing at a SoCal drag strip when his clutch and pressure plate exploded and killed a spectator. The resulting lawsuit drained him and his competitive days at the race track soon gave way. A sad ending to a racing career that touched just about every genre of the sport… But, ya gotta give it to Otto – The man did it.
…………………………………..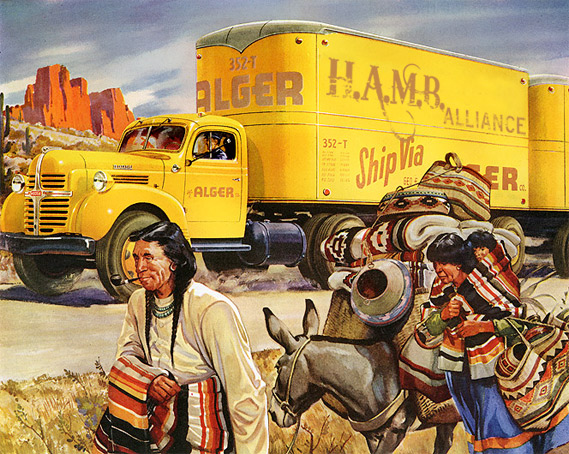 6

Comments on the H.A.M.B.