So-Cal Streamliner: The First SCTA Bonneville "Celebrity" Car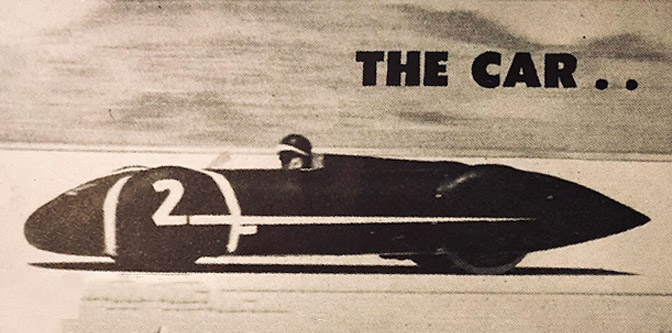 In August of 1949, the Southern California Timing Association hosted their first "National Speed Trials" at Bonneville and it quickly realized that the salt flats would render their racers far more speed than the lumpy dry lake beds of southern California had produced up to that point. For the first time, American hot rodders would have the chance to break into the elusive 200 mph club. It happened at the second annual Speed Trials in 1950, and the first car that did it was the So-Cal Streamliner, driven by Dean Bachelor and built by Alex Xydias, with a two-way average of 210.892, setting a Class C record, and bagging the Hot Rod magazine 'Top Time' trophy, and the upper right corner of their November issue cover.
Motor Trend, like the Bonneville Trials was in its second year for 1950, and like Hot Rod magazine, it was owned by Robert Petersen. Motor Trend was the 'continental' car magazine of it's time, focusing more on European sports cars, racing, and high end Customs. That's why I surprised to see no less than THREE separate ads in their November issue all touting the So-Cal Streamliner and her amazing record: Edelbrock Equipment Company, Sta-Lube Racing Motor Oil, and of course, the So-Cal Speed Shop all ran ads with the champion race car featured (but ironically neither Bachelor or Xydias' names are mentioned). You quickly get the sense that the 200 mph + record was an achievement for more than just a bunch of humble hot rodders… It was a legitimate milestone for American racing, and deserved to be recognized.
6

Comments on the H.A.M.B.