Smokin' at Mo-Kan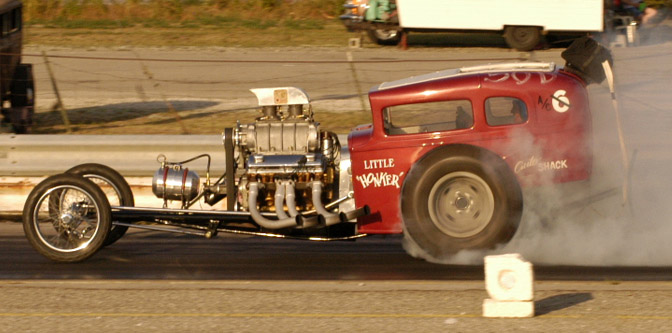 In the past 24 hours, I've flown on two planes, spanned three time zones and spent more than four hours sleeping next to a storage closet at the Denver airport while waiting for my next flight. I'll admit that when it comes to cross-country trips, I'm not the best at advanced planning; I booked this most recent excursion at the last-minute while sitting in my hotel room after a long day at the Street Rod Nationals. But none of that seemed to matter as I stepped through the automatic sliding doors at Lambert International Airport and into that unmistakable Midwestern humidity.
It's hard to believe it's been three years since my last trek to the H.A.M.B. Drags. Truth be told, the logistics were much easier when I was in college a few hours away in Columbia, Missouri. But thanks to a little convincing from my friends, I'll be there this weekend, right in the middle of the action.
Leading up to this trip, I spent a fair amount of time on Google Maps refreshing my knowledge of southwestern Missouri geography. And with that came a deep dive back into my digital archives. I stumbled upon a folder simply labeled "HAMBs" and opened it up. Inside, I found a series of images that I captured during my first MoKan adventure in 2012. Back then I was shooting strictly for fun. My only employer was the Northville Swim Club in Michigan, and I hadn't yet started at The Jalopy Journal or The Rodder's Journal.
 The lack of media credential didn't faze Bobby and Tyler Hilton, who invited me to come along in Denise Sheldon's "Cookie Pusher" wagon as they towed their "Little Honker" Bantam Comp Coupe to the line. Blown Olds, Lynwood chassis, abbreviated body—this car has always been a favorite of mine. And seeing it smoke the tires on a full quarter-mile pass is a memory I'll keep with me forever. Oh, and their lavender-painted "Lump" Model A sedan was no slouch, either.
So, with the drags fast approaching, I figured there was no better time to showcase a few of those shots—unedited—just as they looked straight from my hand-me-down Nikon six years ago. Smoke 'em if you got 'em—I'll see ya at the track!
—Joey Ukrop
8

Comments on the H.A.M.B.