More from Mickey Thompson…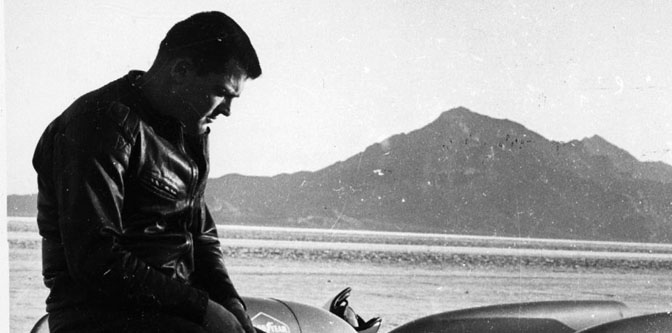 Great interview with Mickey from a Los Angeles TV show in 1962, where he tells more about his record speed of over 400 mph at Bonneville in 1960 and what it took to build the Challenger I. The TV uses lots of footage from the Goodyear film "The Fastest Man on Wheels". He explains very simply how the Challenger four Pontiac engine set-up works, and how the technology eventually benefitted passenger cars. He also talks about the revolutionary racer he was building for the Indianapolis 500 just one month after this show was filmed! The Harvey Aluminum/Harcraft Special was a mid-engine marvel driven by then Indy rookie Dan Gurney (the mystery driver Thompson mentions), and although it had a DNF in the 1962 race, Mickey was awarded the DA Lubricant Award for Mechanical Achievement and took the car to Bonneville three months later where he bagged 35 national and eight international speed records with it!! Watch this film and you get a sense of the humility and intelligence of this self-taught racing pioneer.
10

Comments on the H.A.M.B.