Stay Golden, Goulden T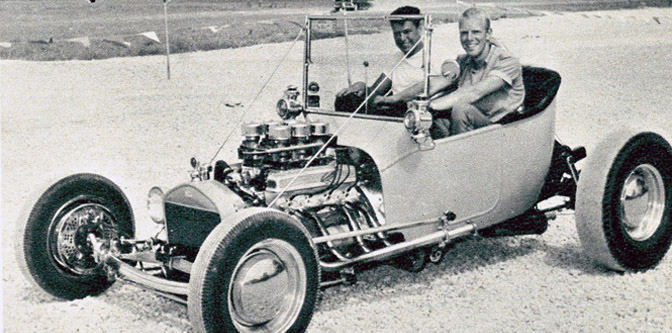 Some of you may be thinking this is slowly but surely turning into a column dedicated to hot rods of the Model T variety. That's not my intention. It just seems that in recent months, I've been especially drawn to them. They're lightweight, affordable and undeniable versatile. They've made great rods since the dry lakes years, serving as the perfect platform for everything from hopped up four-bangers and hot V8s. High riding or low slung, stripped-down or stock-bodied, the possibilities are practically endless.
The other day, I was thinking about the birth of the T-bucket—a time of transition where the proportions hadn't quite leaped into cartoon territory. Creativity was key. And from this period came one of my favorites of the bunch: George Gould's '22 T.
George, a young hot rodder from Waltham, Massachusetts, was no stranger to the subject when he started building this little roadster—the story goes that he had been studying them for eight (yes eight!) years before diving in. He kicked things off with a Model A frame, which he riddled with lightening holes, shortened to 100 inches and Z'd to bring down the rear. Up front, he paired a chromed '37 Ford tube axle with a home-brewed four-bar setup, while a Model A spring and '50 Merc rear were put into service out back.
Despite the rake of the frame, George made sure the powerplant sat level. The '55 Buick nailhead was pushed to 352cid and stuffed with 11:1 Janhs pistons, Grant rings and equipped with a 6×2 intake from Edelbrock. Strombergs provided the fuel and a Ronco magneto handled the spark. Power was transferred through a '36 Buick trans and exhaust was routed through a nicely formed 4-into-2 pipes.
The bucket itself was fairly straightforward, just a cut-down T touring body matched with a T radiator shell. There's no question that the most distinguishing feature was that big 'ol military surplus gas tank mounted to the chromed roll bar. Note how the rollbar, although too short to serve any real safety-related purpose, passes through the rear of the body. Black button-tuft upholstery, bright turquoise paint and plenty of chrome made for a sanitary machine.
Perhaps the best part of this whole picture is that this thing got used. George and a friend drove the car from Massachusetts to the NHRA Nats at Indy in 1961, and according to Hot Rod Magazine, the T was his daily driver. Often times these old hot rods fade away, but not this one. It's still rolling, looking much as it did in these photos. What could be better?
—Joey Ukrop
 Photos by Eric Rickman, HRM, June 1962
20

Comments on the H.A.M.B.