The REAL Birth of Hot Rodding?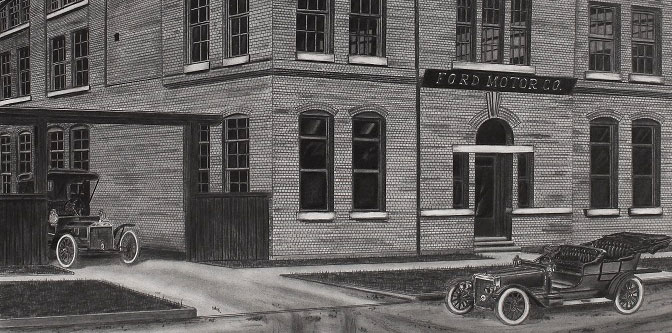 I had a little time to kill in Detroit yesterday, and one place in the Motor City that I had never been was the original Ford Piquette Ave. plant, where the Model T was born nearly 110 years ago. This was Henry's first real purpose-built factory starting in 1904, as the previous factory at Mack Ave. was a smaller, rented space. Ford was still on the verge of becoming the largest car manufacturer in the world, as he introduced a string of short-lived models B, C, F, K, N, R, and S. By 1907, the designs for the revolutionary Model T were being drafted on the third floor of this very building. The 1909 Model T was THE blockbuster of the automotive world, with magneto charging, removable head, interchangeable parts, and most importantly, a price that every middle-class American could afford. It's wildly successful run, starting in October of '08, and up till 1927 cemented the beloved "T" as the most popular car in America. The Tin Lizzie became the first mainstream stripped-down Speedsters and Runabouts, the first motor with a large offering of dedicated speed parts, and the first mass-market car to really be made into a what would be known to the world as a hot rod. It all started here… In this humble brick factory on Piquette Avenue in Detroit, Ford birthed what would become the first working man's hot rod. How cool is that?
20

Comments on the H.A.M.B.