The Story of the Dean Moon '34 Ford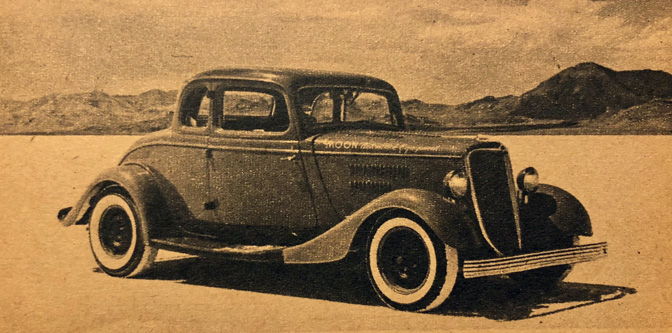 Lets go back to the November 1955 issue of Rod & Custom, past the article on the newly-opened Disneyland's Autopia cars, you'll find an article by Dean Moon, chronicling the history of his beloved 1934 Ford 5 Window Coupe, starting with it's purchase in late 1946. There's no point in me explaining too much about his car, seeing how I've attached the entire story for you to read, but it's a wonderful piece both about how it was customized over the years, and how it was part of his family as a daily driver. Essentially, it's the story of Moon's life as well as the car, including racing, marriage & honeymoon, military service, and the birth of what would become a Speed Parts empire. It's crazy to think that the one of the most famous hot rod accessories of all the time, the Moon Disc, would go on sale the very same month as this article, cementing Moon's iconic name in the hot rod world. The question here however, is where is the Dean Moon '34 today? Does anybody know if his car is still around?
13

Comments on the H.A.M.B.