#52 is For Sale…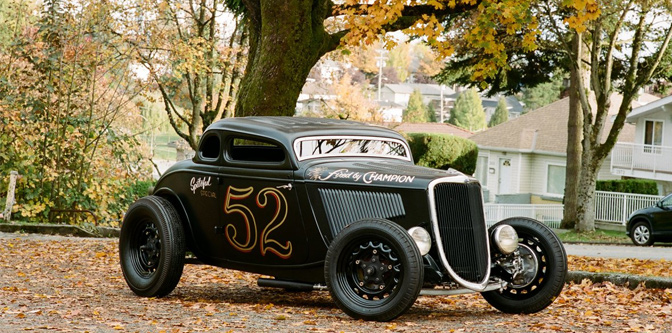 A couple of years back, I went to Canada on vacation, drank too much, and ended up on the wrong side of Vancouver. It was one of those weekends where you sort of relive tiny little humiliations from slivers of memories that come back to you every now and then. Good god man – I did some bad things and made some poor decisions. It was fun.
Of course, while I was there I also ran into Brad and his '34 coupe. I had brought along a 60 year old film camera and was hoping to get some work for the beer money. It worked out and Brad was brave enough to meet me in some random parking lot. The resulting shots rank amongst my favorite shots that I've ever taken. I just love em… And, as such, this '34 holds a special little place in my heart.
You can read the old feature here.
Anyway, Brad has decided to sell the car and recently posted it in the classifieds. Given its place in TJJ history, I figured I had better feature it. So… Check out the ad here. I can vouch for the thing up until a couple of years ago. When I saw it, it was a really nice car… with great attention to detail and what seemed like super solid mechanicals. Oh… And you can also read the full build thread that Brad posted here.
All and all, it's a pretty well documented hot rod with a fantastic look. Someone with some dough is gonna be fortunate as hell.