The Big Buick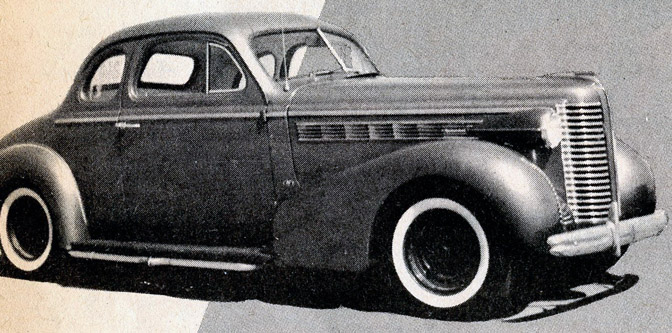 Go to almost any big car show and you're going to see a whole lot of the same stuff. Rows of this, vendors with that, people keeping up with trends of now and trends of then—those on the cutting edge and those who let the cutting edge whiz by them with a splash and a heartbeat. There's no denying that our hobby has always revolved around trends: contemporary, traditional or something in between.
At its core, hot rodding is a dare-to-be-different hobby. And among these dare-to-be-differentists, there are those who fly in the face of convention to an extra degree. Maybe they're the mad ones? Maybe they have oddball tastes? Or maybe they're just dead-set on hitting the road in their homebuilt machines—regardless of make, manufacture or pedigree.
I have a feeling that for Steve Pettygrove of York, Nebraska, it was a combination of all of the above. You see, his hot rod was no Deuce. It was no A. Instead, it was a 1938 Buick. He didn't set out to do anything too radical, and that's what made it just right. Some shaving and some lowering helped extenuate the lines and curves of the big ol' Buick, while double-double lakes pipes added an extra degree of visual variety to the flanks.
Since he already had a Buick, Steve opted for a Buick powerplant to stuff beneath that loooong hood. The '54 nailhead was bored 0.030-over, outfitted with a Wilson cam, dual-point distributor and crowned with a quartet of Holley 94s on a homemade log manifold. Power was transmitted through a '37 Buick trans to a stock rear end equipped with 4.44 gears.
In the detailing department, Mr. Pettygrove decided to have the car painted in Bimmie Blue/Green metallic lacquer. The inside was trimmed to match in turquoise and white Naugahyde.
When it was all said and done Steve had the '38 looking great. He drove the car on the street, raced at the local drags—turning 84mph—and even netted a three-page feature in the November/December 1960 issue of Custom Craft. Steve's Buick is part rod, part custom and certainly completely different.
—Joey Ukrop
 Photos by Martin Lee, Custom Craft Magazine
19

Comments on the H.A.M.B.