The Jack Kukura Roadster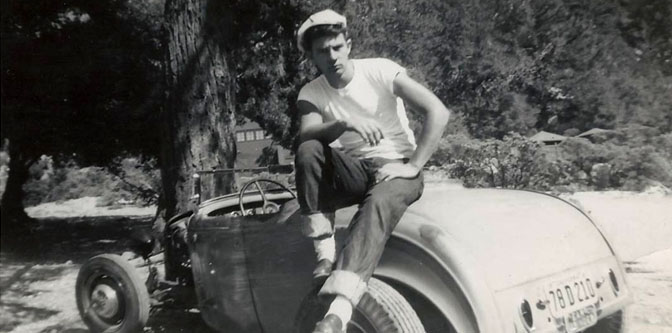 Ever wonder how many hot rods that were built in the early post-war era are still out there on the road today? How many roadsters built in 1946, that are still running the same body and chassis, and have legitimate El Mirage and Bonneville history are still popping up? The Jack Kukura roadster has a pretty killer history, and stayed in Jack's possession till he died. It's now for sale across the street from my work at Fantasy Junction, and here's what they've written about the car:
"Rich with history, this amazing 1932 Ford Roadster can be traced back to July 1946, when Jack Kukura of Bell, California and early member of the Gear Grinders car club, purchased it for $385. From 1947 through 1960, Kukura ran the car at the Southern California Timing Association (S.C.T.A.) events and at the world-renowned Bonneville Salt Flats in the late 1950s.
In May 1947, Kukura began racing the car at El Mirage, running at 97.29 mph. The roadster steadily evolved, and, by October 1947, the installation of a Mercury V-8 engine helped it reach speed of 120-plus mph. Kukura continued to run the '32 Roadster with a flathead engine through 1956, the same year he received the Gear Grinders Die Hard Award.
In 1957, Kukura installed a blown Chrysler 454 cid Hemi engine, bringing speeds up considerably, clocking between 145 and 190 mph in several runs. Joined by driver Jim Lindsley—a member of the 200 MPH Club and former S.C.T.A. and Gear Grinder president—Kukura made one final attempt to beat their record of 189.93 mph at Bonneville in 1960. After clearing the first timing trap, the roadster spun out at 200 mph. After coming to a controlled stop, he declined to make the return run. After 1960, Kukura retired his '32 Roadster and kept it until he died in 2005."
I found some old pictures of the car in it's pre-1957 Flathead-powered version, including a shot at El Mirage where it sports an aluminum hood. All racing hot rods evolve and change over time, as the owner continually seeks to get more performance and speed out of their car. So the question is, which version of this car do you like best, and what would you do with the Kukura Roadster if you bought it tomorrow?
29

Comments on the H.A.M.B.