Disney Cartoons featuring the Hot Rod…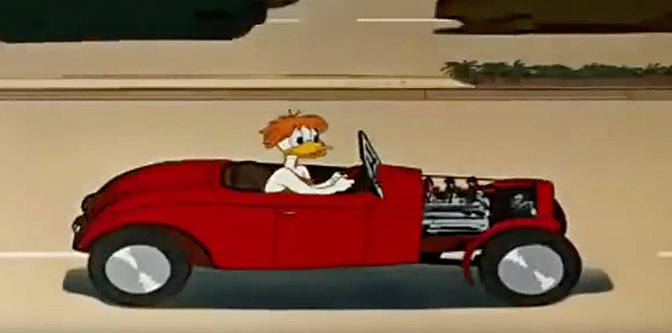 Walt Disney produced a large number of short cartoons in 1940s, 50s and 60s, mainly featuring Mickey, Donald or Goofy, and covering a wide range of subjects, everything from romance to rowing! What strikes me is how many of their cartoons of this golden era featured a hot rod of some sort- Not just a featured car per se, but an actual hot rod as we know it. The jalopy in these Disney cartoons is usually featured as the car of choice for the young & reckless- Raccoon tails and wide whites are popular too. Take a look a few of the best ones I've found:
Donald Duck 'Tire Trouble' (1943) Definitely one of the earliest representations of a 'hot rod' in a Disney cartoon. Notice Donald drives like a psychopath in this type of souped-up car. Looks to be loosely based on a Model T Speedster, complete with brass grille and a Motometer radiator cap. The Aero-disc style wheel covers are a nice style touch, too.
'All the Cats Join In' (1946) Features young Bobby soxers heading to the Malt Shop at breakneck speed in a black phaeton with whitewalls, no hood and too many kids! The animation is top notch in this cartoon and the hot rod tub is featured for a big part of it.
Donald Duck in 'Lucky Number' (1951) Not the featured car in this short, but rather Donald's nephews that are building a nice little black T phaeton that looks to be shortened, running a 4 Banger. The car features a lay-down windshield, wide whitewalls and really low headlights. I like their process for removing carbon build up in the cylinders!
'Susie the Little Blue Coupe' (1952) This was much of the inspiration for putting eyes in the windshield for characters in the movie 'Cars', but this great short also has a very happy ending as the neglected coupe is reimagined as a 'cut down and hopped up' hot rod!
'Donald Duck and the Wheel' (1961) Weird educational film about the history of the wheel and progress in transportation, featuring a caveduck version of Donald. You can skip ahead to just before 8 minutes and you'll see the primitive duck on a modern highway, and what do they stick him in? A channeled '32 Roadster running a 3-pot Olds or Caddy (or Y-block?) and front cycle fenders. What else would a crazy quacker drive?
36

Comments on the H.A.M.B.