Mighty Mopar Movers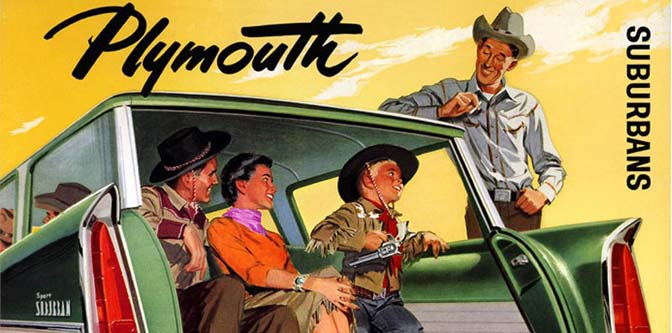 Ryan's images of the Hot Rod Drag Safari being pulled by that sweet '54 Dodge wagon inspired me to think about my favorite Dodge-Chrysler-Plymouth station wagons of all time, and there have been some real gems going back to the 1930s. The Mopar bosses loved wagons enough to create a one-off show car out of the Plainsman, so these guys appreciated a gorgeous grocery getter…
1940 Plymouth Deluxe Wagon: Woodies in general are cool, and the 1940 Plymouth was no exception. This a sweet alternative to a '40 Ford at the beach!
1955 Chrysler New Yorker DeLuxe Town & Country: I've always had a soft spot for the '55 Chrysler 300, so imagine having a wagon version? Exner styling and Hemi power in one sweet ride. (The 1955 DeSoto wagon is a very close runner up here…)
1957-59 Plymouth Custom Suburban Station Wagon: I would make a 'Christine' replica out of a '57, complete with a dual carb 318, and lowered torsion bar suspension.
1961 Dodge Polara Station Wagon: Crazy space-age styling in a wacky 4 door hardtop wagon. Jet pod taillights and I even dig the dash and steering wheel on this thing….
1960-61 Chrysler New Yorker Town & Country: Hardtop roof, canted quad headlamps and those cool boomerang tail lamps… What's not to love?
13

Comments on the H.A.M.B.